History of The Musical Stage
1950s Part III: The Directors
by John Kenrick
(Copyright 1996-2003)
(All the photos below are thumbnails – click on them to see larger versions.)
In the 1950s, the old separations between acting, song and dance in musical theatre faded, and were replaced by a greater fluidity in the staging and structure of musicals. As a result, directors took on a much greater role in the development of new musicals. Veterans like George Abbott and a new, innovative breed of director-choreographers put their creative stamp a long line of musicals that would stand the test of time, classics that formed what many call the "golden age" of Broadway musicals. For the first time, critics and ticket buyers paid serious attention to who was "at the helm."

George Abbott and Ray Bolger camp it up during rehearsals for Where's Charley.
George Abbott was so revered that even longtime colleagues addressed him as "Mr. Abbott." He had more than twenty years experience as an actor, playwright and comedy director when he staged his first musical, Jumbo (1935 - 233 performances). Over the next 27 years, he directed 26 Broadway musicals, 22 of which were moneymakers. He also wrote all or part of the librettos for many of those shows. Abbott's swift pacing and instinct for dramatic construction did much to shape the American musical comedy as we know it. He urged composers to tailor songs to specific characters and situations long before anyone else was interested. Many a show facing trouble on the road to Broadway benefited from Abbot's unaccredited doctoring – which came to be known as "the Abbott touch."
Abbott's career reads like a history of the American musical theatre in the 20th Century. He worked with Richard Rodgers and Lorenz Hart on a series of definitive 1930s musical comedies (On Your Toes, The Boys From Syracuse), followed by the daring Pal Joey (1940). In the next two decades, he remained at the creative forefront by teaming with such choreographers as Jerome Robbins (see below) and Bob Fosse (see below) to create several groundbreaking dance musicals. Abbott's credits include:
George Abbott's greatest strength was in identifying an author's intentions and expressing them clearly in an accessible, fast-paced musical comedy format. But as the integrated musical play displaced the old school musical comedy, Mr. Abbott's once infallible sense of musical comedy construction began to seem dated. However, as his career entered its fifth decade, he directed two more impressive hits:
At age 72, Abbott won two Tonys and shared a Pulitzer Prize for directing and co-authoring Fiorello (1959 - 795 performances), a semi-fictionalized look at the early political career of New York's beloved Mayor LaGuardia. The show shared the Best Book, Composer and Musical Tonys with The Sound Of Music, the only triple-tie in Tony history. The score ("Politics and Poker," "Little Tin Box") was by composer Jerry Bock and lyricist Sheldon Harnick, a team that would write several major hits in the 1960s. Acclaimed in its day, Fiorello has proven difficult to cast and is rarely performed today.

Two years later, Abbott won another Tony for directing A Funny Thing Happened on the Way to the Forum (1962 - 964 performances), a sexy farce with book by Burt Shevelove and Larry Gelbart and the first complete Broadway score with words and music by Stephen Sondhem ("Comedy Tonight," "Everybody Ought o Have a Maid"). The show took the Best Musical Tony, with Best Actor going to Zero Mostel as Pseudolus, a Roman slave who turns lives upside down in his pursuit of freedom. But it was widely known that Jerome Robbins had done much to doctor the show during its pre-Broadway tour.
The energetic Abbott directed ten more Broadway productions, including an acclaimed revival of On Your Toes (1982 - 505 performances). He remained active well past his centennial year, helping to revise the revival libretto of Damn Yankees (1994 - 510 performances) shortly before his death at age 107. A no-nonsense organizer in a business where disorganization was all-too common, Abbott had an extraordinary eye for talent, and played a crucial role in launching the careers of many theatrical greats, including the two director-choreographers below.

Phil Silvers bilks a New Jersey family, only to lose his ill-gotten gains in High Button Shoes.
Coming from the world of classical ballet, Jerome Robbins used dance as a story-telling device, making it as intrinsic to the musical as the script and the score. What Agnes DeMille had in initiated in Oklahoma came to fruition in the best Robbins stagings. He worked closely with authors and composers, defining the core stories and taking an active role in shaping much of the material he would bring to life on stage. As a result, his directorial concepts are often woven into the librettos and songs, a permanent element in the fabric of these shows. He directed and/or choreographed a roster of hits, including some of the most memorable musicals of the post-Oklahoma era –
On The Town (1944 - 463 performances) allowed Robbins to use dance as a primary element in telling the story of three US Navy sailors finding romance while on a 24 hour shore leave in New York City. George Abbott directed, giving Robbins wide leeway for the creative use of choreography. (More on this show in a previous chapter.)

Billion Dollar Baby (1945 - 219 performances) was built around a series of story-telling dances, once again with Abbott directing and Robbins handling the musical numbers.

High Button Shoes (1947 - 727 performances) had a score by Jule Styne and a stellar comic performance by Phil Silvers as a slick 1913 con man, but it is primarily remembered for Robbins' choreography, most notably a madcap "Mack Sennett Ballet." Keystone-style cops and bathing beauties were unleashed in a wild chase to nowhere, stopping the show. The director was (who else?) George Abbott.

The King and I (1951 - 1,246 performances) had Robbins combining narrative dance and oriental techniques in Richard Rodgers and Oscar Hammerstein II's "Small House of Uncle Thomas Ballet." He also staged the "March of the Siamese Children" and the showstopping "Shall We Dance." Although playwright John Van Druten was credited as director, some cast members later claimed that this production received important directorial touches from lead actor Yul Brynner.

West Side Story (1957 - 732 performances) What began with Agnes DeMille's dream ballets in Oklahoma! found its fulfillment here with Robbins serving as director and choreographer, shaping the entire show as one nonstop choreographic event. Something as prosaic as a gang walking down a street became an excuse for dance that simultaneously strengthened the plot and developed individual characters. The inherent drama of young lovers meeting at a dance or teenagers clashing in a schoolyard brawl became riveting highlights in the history of modern dance. (More on this show in a previous chapter.)

Gypsy (1959 - 702 performances) was not a dance show, but Robbins added much to it by re-creating the dance styles of vaudeville and burlesque. When three strippers assured young Louise (about to blossom as Gypsy Rose Lee) that "You Gotta Get a Gimmick" to succeed in burlesque, Robbins turned their bumps and grinds into one of the funniest showstoppers in theatrical history. (More on this show in an upcoming chapter.) Every major revival of Gypsy would recreate Robbins' original choreography for the next fifty years.

A Funny Thing Happened on the Way to the Forum (1962 - 964 performances) is discussed above in our section on George Abbott.

Fiddler on the Roof (1964 - 3,242 performances) was Robbins' ultimate Broadway triumph, weaving story, song and dance together to tell the story of a Jewish milkman facing change in his family and his shtetl community. He staged unforgettable images – the Jews of Anatevka forming a circle of community, the wedding dancers with wine bottles perched precariously on their hats, and the circle finally breaking apart as the Jews flee Russian oppression. As the philosophical milkman Tevya, Zero Mostel overcame personal differences with Robbins and gave the most memorable performance of his career. Robbins and Mostel took home Tonys, with the show winning Best Musical.
After Fiddler, Robbins concentrated on classical ballet, and on burying whatever private guilt he might have carried after betraying friends to the witch-hunting Congressional committees of the 1950s. He returned to Broadway to supervise Jerome Robbins Broadway (1989 - 634 performances), a valedictory revue of his finest Broadway dances. Brilliant but dictatorial -- some would even say despotic -- Robbins was arguably the most brilliant director the musical theatre has ever known.

Bob Fosse's sexy, impious dancing won attention in the 1952 Broadway revival of Pal Joey and such MGM films as Kiss Me Kate (1953). His first choreography credit on Broadway was The Pajama Game (1954 – 1,063 performances), a bright musical comedy about a romance between a supervisor and a union rep as labor battles management in a Midwestern factory. With a delightful score by the new composing team of Richard Adler and Jerry Ross, this show was the perfect vehicle for Fosse's dance style. George Abbott handled the book scenes and left the musical numbers to Fosse.
Fosse built on what choreographers Robbins and Agnes DeMille had begun, adding a touch of show biz razzle-dazzle and a generous dose of unapologetic sex appeal. He found the perfect vehicle for his style in Gwen Verdon, a gifted dancer and actress who combined vulnerability with sleek sensuality. In Damn Yankees (1955 - 1,019 performances) Verdon played a demonic temptress, stopping the show with the raunchy "Whatever Lola Wants." The show, choreographer and actress all collected Tonys, and Fosse made the connection permanent by marrying Verdon during the run. Verdon won another Tony starring in New Girl in Town (1957 - 431 performances), but Fosse's "Whorehouse Ballet" was so daring that director George Abbott disposed of it during out of town previews. An infuriated Fosse resolved to be director-choreographer on all his future projects. Redhead (1959 - 452 performances) cemented Verdon's place as one of the greatest musical stage stars of her time, and is covered in our next chapter.
In 1959, Verdon explained to a New York Times interviewer the special contribution a director-choreographer could make to a musical --
"With a choreographer like Bob Fosse as director, there are many things he can give you to do -- such as a movement which will suggest a feeling, even when you are playing a scene. A choreographer is never afraid to move you around, while most directors have their mind on keeping you where you will be heard. You have more freedom. Choreographers have a greater sense of the visual, the composition of a scene, the look of a scene. You don't have to depend on words all the time."
- as quoted by Richard Kislan in Hoofing On Broadway: A History of Show Dancing (New York: Prentice Hall Press, 1987), pp. 104-105.
Fosse said that from a director's point of view there were only three types of show songs –
I Am songs – Any song that explains a character, a group of characters, or a situation.
I Want songs – These tell us what characters desire, what motivates them. Most love songs fit into this category.
New songs – This includes any number that does not fit the other two categories, usually because they serve special dramatic needs.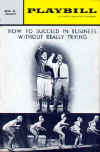 These unique definitions helped Fosse to shape several sophisticated musical comedy hits in the 1960s –
How to Succeed in Business Without Really Trying (1961 - 1,417 performances) was a Pulitzer Prize winning Frank Loesser hit discussed in a previous chapter. Fosse's dances included "Coffee Break" and "Brotherhood of Man," giving a quirky look to this sharp satire of America's corporate culture. At right, co-stars Rudy Vallee and Robert Morse can be seen on the original cast Playbill cover.

Little Me (1962 - 257 performances) was based on a best-selling comic novel by Patrick Dennis, offering the fictional tell-all autobiography of "Belle Poitrine," a poor young woman who uses sex appeal to find fame and fortune as a trashy film star. Fosse's dances included a memorable "Rich Kids Rag," and his direction made the most of a hilarious book by Neil Simon. The Cy Coleman-Carolyn Leigh score included the hits "Real Live Girl" and "I've Got Your Number." The casting of popular comedian Sid Caesar as seven diverse men in Belle's love life arguably focused creative attention in the wrong direction, resulting in often funny but fatally unbalanced show that ran barely six months. Two Broadway revivals of this intriguing show (in 1982 & 1998) have met with quick failure.
Sweet Charity (1966 - 608 performances) re-united Fosse and Verdon, and is discussed in detail in the next chapter.
Fosse remained a potent theatrical force for decades to come. He would take the director-choreographer's role to new levels -- some might even say, new extremes. You can find more on his later efforts in upcoming chapters. For more on the career of Gwen Verdon and other leading ladies of the 1950s, let's move on to . . .