John Kenrick
Making show biz history entertaining
- Creator of Musicals101.com
- Adjunct Faculty - New York University, Steinhardt School
- Adjunct Faculty - The New School, NYC
An internationally recognized authority on the history of musical theatre and film, author-lecturer John Kenrick combines his passion for entertainment history with the practical know-how earned working on stage productions at every level from amateur to Broadway. Dispensing with dry academic conventions, he re-examines the stories of people and landmark events with a fresh and often irreverent sense of humor that makes the past accessible and fascinating. Although never afraid to share his frank opinions, he actively encourages and welcomes opposing viewpoints.
Aside from his college courses, he gives talks on theatre and film for various adult education groups, has appeared in numerous documentaries, and is the author of Musicals101.com, The Complete Idiot's Guide to Amateur Theatricals, and the textbook Musical Theatre: A History.
Currently living in the Hudson Valley just north of New York City, he commutes thousands of miles every year, giving hundreds of classes and public talks to groups of all ages. What motivates him? John puts it this way:
"I think show biz history is the most fascinating subject in the world. My goal is simple: to make it as entertaining and exciting for others as it is for me."
John's recent college courses include the History of Musical Theatre, Great Broadway Songwriters, and Rodgers & Hammerstein. He has also offered courses on Hollywood Legends, The History of Screen Musicals, and The Golden Age of MGM, among others. Along with his current work at NYU and The New School, John has also taught at Marymount Manhattan and The University of the Arts in Philadelphia. Some comments from actual course evaluation forms may give you some idea of how John's students feel about him:
"He didn't just make me laugh -- he made me care."

"Encouraging, passionate and engaging."

"John reminded me why I fell in love with this art form."

"I never liked history before, but this turned out to be the most enjoyable course I've taken in any subject."

"So honest; he's downright brave!"

"As much as John cares about this material, he cares even more about us. I will never forget that."

"John Kenrick ROCKS!"
PROFESSIONAL BACKGROUND


John Kenrick with musical theatre legend Carol Channing.
John's academic efforts are rooted in years of professional theatrical experience. Through the 1980s and 90s, John enjoyed an extensive career in theatrical production and management. He was personal assistant to six Tony-winning producers, working on such productions as the first revival of Grease and the Pulitzer Prize-winning hit Rent. He also assisted in the production and management of numerous national tours, including Damn Yankees with Jerry Lewis, Crazy for You, Victor/Victoria, Jekyll & Hyde, the short-lived drama My Thing of Love and Tommy Tune's ill-fated musical Busker Alley.
John provided lyrics for the short-lived but acclaimed Off-Broadway production Bats, wrote and produced cabaret shows that appeared at The Duplex and The Five Oaks, and provided special material for performers at Caroline's, Eighty-Eights, Don't Tell Mama and other top New York clubs. He was Associate Producer for the Celebration '86 Gay Arts Festival, and worked in various capacities for The Glines, The Vineyard Theatre, PACE Theatrical, NAMCO, The Booking Office and The New York Theatre Workshop.
MAKING SHOW BIZ HISTORY ENTERTAINING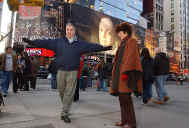 John Kenrick recreated the legendary "Ziegfeld walk" for filmmaker Lindalee Tracey in the Canadian documentary Anatomy of Burlesque.
As an expert on musical theater history, John has been interviewed by PBS, A&E's Biography, BBC TV and Radio, British TV4, The Discovery Travel Channel, The SyFy Channel, The London Observer, National Public Radio, Newsday, The Dallas Daily News and the Chicago Sun Times, among others. He has appeared in documentaries discussing showtunes, Jerry Herman, Times Square, haunted theatres, and the history of burlesque. He can be seen in the DVD documentaries for The Busby Berkeley Collection (42nd Street, Gold Diggers of 1933 & 1935, Footlight Parade, Dames), and the classic MGM musicals Three Little Words, Till the Clouds Roll By and It's Always Fair Weather. He also appeared in the popular PBS documentary Hollywood Singing and Dancing.
John's classes and multimedia talks include PowerPoint slide shows and rare video clips, and reflect a lifetime of dedicated research into the lives and events he discusses. His speaking schedule has run the gamut from luxury liners to Pace University to the NYC Fringe Festival. He offered a three year series of "Musical Conversations" at Manhattan's York Theatre, and is currently in the sixth year of an ongoing series of "Theater Chats" at the Sutton Place Synagogue. He has appeared at New York's Jewish Museum, The 92nd Street Y, the Philadelphia Theatre Company, The Museum of the City of New York, the Queensborough NY Library system, and the Poughkeepsie Public Library. One eminent colleague describes John as:
Aside from John's aforementioned books, his article "Theatre in New York: A Brief History" appears in the textbook Theatre Law: Cases and Materials (Durham, NC: Carolina Academic Press, 2004). When John saw that the internet a needed a reliable non commercial, educational resource celebrating the history of stage and screen musicals, Musicals101.com was born. Since its inception in 1996, this website has grown to over six hundred pages of text and currently attracts more than fifteen thousand visitors each month. Here is what some educators and web experts have said about Musicals101.com:
"Indisputably, the Bible of the North-American musicals." - Diogene (France)

"A reliable educational resource." - Internet Collegiate Reference Collection (icrc.bloomu.edu)

"A lovingly crafted resource." - Internet Public Library

"Painstakingly crafted by a theater professional." - Mary Washington College Libraries, VI

"Highly Recommended" - New York Public Library, Internet Resource Guide

"A complete musical theater education." - ResultsAbout.com

"A very comprehensive and excellent site." - School Librarian's Workshop
John welcomes questions, and responds personally to hundreds of email inquires every year, assisting journalists, theatre professionals, and students alike.
You can reach John at johnkenrick@gmail.com.
Back to: Musicals101.com's Homepage