From the Bruce Levy Collection
Gallery I
Notes by John Kenrick
All these postcards come from the personal archive of Bruce Levy, a dedicated theatre lover and longtime friend of Musicals101.com. The photos below are in thumbnail form – to see larger versions, give them a click. Some are large images and may take a few moments to download.


These postcards depict artwork in The New Amsterdam Theatre as it originally appeared in 1904.


More murals from the New Amsterdam. The half-moon shaped painting on the right appears over the proscenium.

This souvenir postcard from Florenz Ziegfeld's hit Rio Rita (1927). The back urges you to "let one of your friends know how much you enjoyed Rio Rita."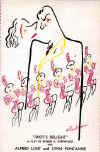 This is not from a musical, but what theatre buff could resist this image of Lynn Fontanne and Alfred Lunt in Idiot's Delight (1936). These cards were available free to audience members. The back reads, "Address this card to your friend, give it to an usher. We will stamp and mail i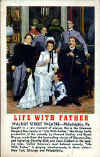 Again, not a musical, but an example of how touring companies promoted themselves in the 1940s -- in this case, a Life With Father cast headed by veteran screen stars Dorothy Gish and Louis Calhern.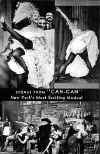 Lilo, Gwen Verdon, and the "Apache Dancers" are featured in this promotional postcard for the original Broadway cast of Cole Porter's Can Can (1953).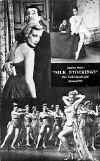 Porter's last Broadway musical, Silk Stockings (1955) with Hildegarde Neff, Don Ameche and busty Gretchen Wyler leading the underdressed ladies of the ensemble in a rendition of "Josephine."