From the Bruce Levy Collection
Gallery II
Notes by John Kenrick
All these postcards come from the personal archive of Bruce Levy. The photos below are in thumbnail form – to see them full size, give a click. Some are large images and may take a few moments to download.

Carol Channing (near center in red dress with huge handbag) and the original cast of Hello, Dolly! (1964) performing Jerry Herman's "Put On Your Sunday Clothes." Producer David Merrick had back of these postcards pre-inscribed "Having a wonderful time at Hello Dolly!"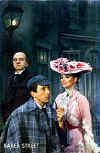 Sherlock Holmes made his Broadway musical bow in Baker Street (1965), starring Martin Gabel as Moriarity, Fritz Weaver as the great detective, and the luminous Inga Swenson as actress Irene Adler. Despite a pleasant score, the production relied heavily on a showstopping puppet parade and is rarely if ever staged today.

The newly built Atlanta Civic Center hosted a tour of Mame starring Janet Blair, with no less than Elaine Stritch as Vera. For some reason, the marquee was immortalized in this post card.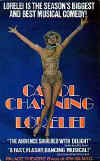 In the 1970s, Jule Styne revamped his old hit Gentlemen Prefer Blondes, adding some new material and keeping original star Carol Channing. Retitled Lorelei, this pleasant "revisal" toured extensively and wound up with a decent run on Broadway in 1974.

This postcard announced the cast album release for the now legendary all-star 1986 New York Philharmonic concert version of Follies.

Promotional postcards are still in use on Broadway. Here the electrifying Marcia Lewis holds forth as Matron Mama Morton in the record-setting revival of Chicago. This is only one in an ongoing series of cards this long-running production has distributed free in Manhattan night spots.