Ziegfeld 101
Follies Chronology - Part III
by John Kenrick
The photos below are thumbnails – click on them to see full size versions.
This completes our year by year breakdown of Florenz Ziegfeld's legendary Follies. For details on his other musical productions, click here.
Please Note: The 1924 Follies ran well over a year, so there was no 1925 edition. The production intended as The 1926 Follies was so uneven that Ziegfeld renamed it No Foolin': Ziegfeld's American Revue and brought it in for a 108 performance run at the Globe Theatre.
---
1927
Opened: The New Amsterdam, August 16 (167 performances)
Book: Eddie Cantor, Harold Atteridge and others
Music and Lyrics: Irving Berlin
Scenery by: Joseph Urban
Costumes by: John W. Harkrider
Dances Staged by: Sammy Lee
Ballets by: Albertina Rasch
Dialogue Staged by: Zeke Colvan
Featuring: Eddie Cantor, Cliff Edwards, the Brox Sisters, Clair Luce and Ruth Etting.
Notes: Ziegfeld spent over $289,000 on the 21st anniversary Follies. To cover this investment, he gave the popular Eddie Cantor star billing, the first Follies performer so honored. It was hard-earned, since Cantor appeared in almost every other scene, co-wrote the script and interpolated Walter Donaldson's hit "My Blue Heaven." The rest of the score was by Irving Berlin, who turned out several strong numbers, including another Cantor showstopper, "It All Belongs to Me." Ruth Etting introduced Berlin's "Shaking the Blues Away," and Cliff Edwards held the next-to-closing spot with his popular ukulele routine. In a number that presaged screen musicals of the 1930s, Ziegfeld filled the stage with 90 girls playing a bevy of instruments, including twelve white pianos. Clare Luce rode a live ostrich in a jungle number – one night, the animal panicked and carried Luce out onto West 41st Street. This was the last Follies to play the New Amsterdam, where the series had thrived since 1913.
---
1931
Opened: The Ziegfeld Theater, June 24 (165 performances)
Book and lyrics: Mark Hellinger, Gene Buck and others
Score: Walter Donaldson, Noel Coward, David Stamper, Mack Gordon, Harry Revel and others
Scenery by: Joseph Urban
Costumes by: John W. Harkrider
Dances by: Albertina Rasch and Bobby Connolly
Dialogue Staged by: Edward C. Lilley
Ziegfeld Assisted by: Gene Buck
Featuring: Harry Richman, Jack Pearl, Ruth Etting, Helen Morgan, Hal LeRoy, Mitzi Mayfair, Albert Carroll, and Buck and Bubbles.
Notes: After a four year break producing musical comedies and losing millions if dollars in the stock market crash of 1929, Ziegfeld tried to revive his fortunes with his mot expensive Follies ever – the only edition ever staged at his art deco theatre on Sixth Avenue. The ailing glorifier spent more than $250,000 on this edition, a far cry from the $13,000 the first Follies cost back in 1907. Ziegfeld relied heavily on longtime associate Gene Buck, who did more than usual to support his increasingly unsteady boss. Harry Richman served as master of ceremonies, Helen Morgan introduced Noel Coward's "Half-Caste Woman" (which was cut after several weeks) and Ruth Etting sang a sentimental reprise of "Shine On Harvest Moon." A "Changing of the Guards" routine had the Ziegfeld girls parading in uniform outside of Buckingham Palace. Although the handsome production got favorable reviews, the massive price tag made it impossible for Ziegfeld to turn a profit. As ticket sales faltered, Flo hoped to extend the run by luring Will Rogers back from Hollywood, but it was not to be. Less than a year after this edition closed, Ziegfeld was dead.
---
The Post-Ziegfeld Follies
The great showman was gone, but his legendary Follies lived on:
1934
Presented by: Mrs. Florenz Ziegfeld (Billie Burke and an unbilled Lee Shubert)
Opened: The Winter Garden, January 4 (182 performances)
Book: Fred Allen and others
Music and Lyrics: E.Y. Harburgh, Vernon Duke and others
Dances by: Robert Alton
Directors: Bobby Connelly and Edward C. Lilley
Featuring: Fanny Brice, Jane Frohman, Vilma & Buddy Ebsen, Eugene & Willie Howard.
Notes: Determined to pay off Ziegfeld's debts, Billie Burke let Lee Shubert pay for the right to produce new editions of the Follies. Shubert must have been delighted to buy into the legacy of his longtime enemy, but did amazingly well reviving the Follies. He produced this edition for $125,000 -- half the amount Ziegfeld had spent three years before, but more than most Broadway musicals cost in the midst of the Great Depression. The results were considered a major improvement over the trashy revues that the Shuberts were known for. Brice portrayed "Soul Saving Sadie of Avenue A," and "Countess Dubinsky," a blue-blooded Russian 'migr' now reduced to burlesque fan dancing for Minsky. She also introduced Baby Snooks, a character that would later provide her a new career on network radio. Thanks to shrewd Shubert management, this Follies turned a modest profit.
---
1936
Presented by: Mrs. Florenz Ziegfeld (Lee Shubert eventually shared billing on this edition)
Opened: The Winter Garden, January 30 (227 performances)
Book and lyrics: David Freeman, Ira Gershwin and others
Score: Vernon Duke and others
Dance Directors: Robert Alton and George Balanchine
Costumes: Vincent Minnelli and others
Directors: John Murray Anderson and Edward C. Lilley
Featuring: Fanny Brice, Josephine Baker, Gertrude Neisen, Bob Hope, the Nicholas Brothers and Eve Arden. Cast replacements included Bobby Clark and Gypsy Rose Lee.
Notes: Once again, Lee Shubert put together a quality Follies, packed with first class talent in every department. Minnelli draped the chorines in cellophane, and Brice reprised her Baby Snooks character. One skit was a satire of Warner Brothers screen musicals, with Brice as "Ruby Blondell," Bob Hope as "Bing Powell" and Gertrude Neisen as "Delores Del Morgan." The musical highlight was "I Can't Get Started," with Hope attempting to impress Arden by listing his world-class accomplishments. The run was interrupted when Brice fell ill in May. When it resumed in September, Hope, Baker and Neisen were gone, replaced by comic Bobby Clark and burlesque queen Gypsy Rose Lee. In 2001, this edition was staged in concert form by the NY City Center Encores! series, resulting in a superb recording.
---
1943
Presented by: The Shuberts
Opened: The Winter Garden, April 1 (553 performances)
Book and Lyrics: Ray Golden, Lester Lee, William Wells and many others
Score: Ray Henderson, Jack Yellen and Harold Rome
Director: John Murray Anderson
Choreographer: Jack Cole
Featuring: Milton Berle, Arthur Treacher, Ilona Massey, Dean Murphy and Jack Cole
Notes: The score was forgettable and the comedy brash, adding up to a show far removed from the Ziegfeld tradition, but the Shuberts called it a Follies anyway, and wartime audiences kept it running longer than any previous edition. Comic Milton Berle starred, doing outrageous skits and habitually stealing everyone else's scenes. Dean Murphy's celebrity impersonations scored, as did two ballet sequences by future dance legend Jack Cole. Berle's success here led to his long-running variety series on early TV.
---
Note: In 1945, MGM produced a lavish screen revue entitled The Ziegfeld Follies (discussed elsewhere), and the Sands Hotel in Las Vegas used the title for several revues in the late 1950's.
---
1956
Presented by: Richard Kollmar and James W. Gardiner
Opened: Boston, closed in Philadelphia
Book: Arnold Horwitt, Jerry Boch and others
Score: Albert Hague, Irving Berlin and others
Director: Christopher Hewitt
Choreographer: Jack Cole
Sets and Costumes: Raoul Pene DuBois
Featuring: Tallulah Bankhead, David Burns, Joan Diener, Mae Barnes, Carol Haney, Bea Arthur and Julie Newmar.
Notes: New producers purchased the rights to the Ziegfeld Follies name, but apparently had no clue what to do with it. The normally outrageous Bankhead and a gifted supporting cast could not overcome meager material. Staged for the then-staggering sum of $400,000, this became the only edition that ever closed before reaching Broadway.
---
1957
Presented by: Mark Kroll and Charles Conway
Opened: The Winter Garden, March 1 (123 performances)
Book: David Rogers, Coleman Jacoby, Arnie Rosen and others
Score: Howard Dietz, Carolyn Leigh, Sammy Fain, Jack Lawrence and others
Director: John Kennedy
Featuring: Beatrice Lillie, Billy DeWolf and Jane Morgan.
Notes: With weak material (much of it recycled from the unsuccessful 1956 edition) and only eight girls in the chorus, this "50th Anniversary" event was a sad excuse for a Follies. Bea Lillie was the sole reason this production achieved a four month Broadway run. She introduced her "Milady Dines Alone" routine, and starred in a My Fair Lady spoof, crooning "I had a bawth lahst night." Many felt that comic Billy De Wolf was wasted. The reviews were so bad that no cast album was made -- an extraordinary gesture in 1957, when many quick-closing Broadway flops turned out recordings.
---
1960
Billie Burke and The Shuberts authorized a touring Follies that played several summer theaters. This low budget, in-the-round production directed by comedian Bobby Clark used recycled material, had a no-star cast, and soon (mercifully) disappeared. Burke also authorized an altogether different Follies that toured Australia that same year.
---
1991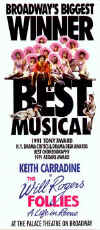 A brochure for The Will Rogers Follies – click to see a larger version of the image.
The Will Rogers Follies (983 performances)
It took a heavy dose of Tommy Tune's showmanship to raise this uneven show to hit status. The massive opening number "Will-O-Mania," the bridal pageantry of the first act finale, and the delicious tambourine tomfoolery of "Favorite Son" were probably better danced than anything Ziegfeld ever presented, and the parade of chorus girls during "Presents for Mrs. Rogers" was an affectionate homage to the Follies showgirl pageants of the past. Gregory Peck provided the disembodied voice of Ziegfeld; the cast CD preserves several of his lines. Ziegfeld would probably have found great satisfaction that he and his Follies were still considered Broadway drawing cards six decades after his death.