History of The Musical Stage
1900-1910: Part II
by John Kenrick
(Copyright 1996; revised 2014)
(The images below are thumbnails – click on them to see larger versions.)

Victor Herbert as he appeared on the sheet music for Naughty Marietta's "Ah, Sweet Mystery of Life."
Born in Ireland and trained in Europe, Victor Herbert was already musical director of the prestigious Pittsburgh Symphony by the time he started composing for Broadway. His scores graced more than forty musical comedies and operettas, making him one of the most acclaimed songwriter of his time.
Despite melodic sophistication worthy of Europe, Herbert's scores had a distinctly American sound. Herbert was the first Broadway songwriter to successfully insist that no changes be made in his scores without his permission -- a precedent that did much to end the age of "interpolations," and thereby reshape the role of composers in the American theatre.
Herbert's musicals, written with various collaborators, involved simple American goodness triumphing over Old World ways. His most famous works include –
Babes in Toyland (1903 - 192 performances), a childhood fantasy best remembered for its sentimental title song and the martial "March of the Toys." In attempting to copy the success of the musical hit The Wizard of Oz, Herbert's children's fantasy boasted a far better score. A longtime audience favorite, Babes was revived on Broadway through the 1940s.

Mlle Modiste (1905 - 202 performances) told of an American shop girl who finds romance and operatic fame in Paris. Metropolitan Opera soprano Fritzi Scheff triumphed in the title role, introducing the wistful waltz "Kiss Me Again." She toured in revivals of the show for more than two decades.

The Red Mill (1906 - 274 performances) involved a pair of vaudeville comedians kidding their way through some minor adventures in Holland. The plot was Cohan-esque, but the score was pure Herbert, including the ballad "Moonbeams" and the popular "In Old New York." A 1945 production starring Eddie Foy Jr. ran for 531 performances, becoming Broadway's first musical revival to outlast an original run.

Naughty Marietta (1910 -136 performances) told the story of a French noblewoman who flees the prospect of a loveless marriage to find love with an American soldier of fortune in colonial New Orleans. The lush score included "Ah, Sweet Mystery of Life" and the coloratura showpiece "The Neapolitan Street Song." Designed as a showcase for operatic voices, it is the only Herbert musical still performed with any regularity. Nine decades later, two of its songs -- "I'm Falling in Love With Someone" and "Ah, Sweet Mystery of Life"-- reappeared in Broadway's Thoroughly Modern Millie (2002).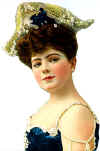 A tinted magazine photo of Fritzi Scheff in the bejeweled costume she wore for the finale of Mlle. Modiste.
Herbert was the driving force behind the formation of the American Society of Composers, Authors and Publishers (ASCAP), an organization that to this day protects the rights of composers and lyricists. He continued composing until his death in 1924, and his music remained popular for decades to come. By expressing contemporary American sentiments with an Old World level of musical refinement, he set a course that would be followed by Jerome Kern, Richard Rodgers and other great Broadway composers.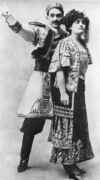 Donald Brian (Danilo) and Ethel Jackson (Sonja), the original Broadway leads in The Merry Widow.
Although Broadway audiences took increasing pride in homegrown musical shows, in the early 1900s a European import became the biggest cultural phenomenon since H.M.S. Pinafore -- an extraordinary fate, considering that this show's original Viennese producers expected it to fail.
In 1905, Hungarian composer Franz Lehar convinced Vienna's prestigious Theatre An der Wein to premiere his new operetta Die Lustige Witwe. With librettists Victor Leon and Leo Stein, Lehar had created a seamlessly integrated musical masterpiece, with every number and bit of dialogue contributing something crucial. This melodic and amusing tale of a rich young widow re-igniting a lost love with a playboy nobleman was not getting a first class production. Uncertain producers used left-over sets and costumes to minimize their losses, but the public soon embraced the show. Only when the show reached its 300th performance did the producers finally invest in a lavish new production.
Die Lustige Witwe was translated into more than a dozen languages as it waltzed its way to every theatrical corner of the world. And its success kept confounding the experts. London producer George Edwardes was surprised when his staging of The Merry Widow (1907 - 718) became a runaway hit.
"Though not immediately recognized as such, it was the beginning of a new wave of modern operettas in which the waltz was used for romantic, psychological purposes, and danced as much as sung. . . Lehar's melodic gifts were prodigious, and he had a penchant for sweepingly romantic phrases which at once define his era."
- Richard Traubner, Operetta: A Theatrical History (Garden City, NY: Doubleday & Co., 1983), p. 243.
The first Broadway production of The Merry Widow at The New Amsterdam Theatre (1907 - 416 performances) delighted Americans with its romance and refined sensuality. When the dashing Donald Brian whirled Ethel Jackson around the stage in what became known as "The Merry Widow Waltz" ("I Love You So"), they ignited a cultural firestorm. Several companies toured the USA, a full length parody version ran profitably in New York, and the waltz itself was heard everywhere.
All sorts of unauthorized products tried to cash in on the show, releasing "Merry Widow" hats, cigars and corsets.
"The Merry Widow could not have waltzed across the world's stages at a more propitious time. It came as close to being the perfect turn-of-the-century stage piece as anyone could have hoped. . . What mattered was the story, the attitudes underlying that story, and, most of all, Lehar's meltingly beautiful melodies. More than anything else, the music carried the day -- as it still does in any revival -- and almost assuredly would have triumphed attached to any tale. The libretto, accompanied by a lesser score, also might have succeeded, though not as rapturously. . . The totality was irresistible."
- Gerald Bordman, American Operetta: From H.M.S. Pinafore to Sweeney Todd (New York: Oxford University Press, 1981), pp. 74-75.
Lehar's success set off a new international craze for romantic Viennese operettas, including Leo Fall's The Dollar Princess (1909 - 288 performances) and Oskar Strauss' The Chocolate Soldier (1909 - 296 performances). These works did well on both sides of the Atlantic right up to the onset of World War I, but no other work quite equaled the lasting popularity of The Merry Widow, which continued to have long-running revivals through the 1940s.
(You can learn more about this landmark hit by visiting The Merry Widow 101.)
As the new century revved up, Broadway balanced the influence of European works by developing fresh theatrical trends. From African-American rhythms to "the glorification of the American girl," there was fresh excitement brewing on the street that (thanks to the invention of electric light) was coming to be known as "the Great White Way."