Variety-Vaudeville 101
Music Halls, Variety, Vaudeville and Burlesque
by John Kenrick
(Copyright 1996-2011)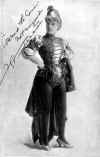 Beloved comedienne Fay Templeton, in the tights often worn by ingénues in early variety.
The modern musical received its format from operetta, but got its comic soul from the variety stages of Britain, France and America. These essays are the same ones found in our History of Musicals, plus several special features created in response to user requests for more on variety, vaudeville and burlesque.