Musical Stage Gallery I
Compiled by John Kenrick
The photos below are in thumbnail form – to see them full size, give 'em a click! Some of them are large images and may take a few moments to download. All these items come from the the author's personal archive. (For a note on rights for photos used on this site, please click here.)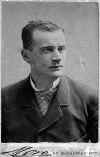 Edward "Ned" Harrigan, the actor, lyricist and playwright who became the toast of Broadway in the 1880s with stage partner Tony Hart and composer David Braham. "Cabinet photos" like this could be purchased in photographers shops.

Francis Wilson, star of Erminie. This genial comedian was so popular with his fellow performers that they chose him as the first president of the Actor's Equity Association.

Edna May starred in the London production of The Belle of New York (1897), an American musical comedy that did poorly on Broadway but took the West End by storm.

The souvenir program cover for the original New York cast of Florodora (1900). This colorful logo was typical of those used by Broadway productions at that time.

A program for the original production of Victor Herbert's Babes in Toyland (1903). The period advertisements include a still-familiar champagne, and a restaurant whose name would later be used by the headwaiter in Hello Dolly (film version).

The Beauty Spot (1909) was a comic opera about a general's daughter who wants to marry an artist. This post card does not identify this scene, but it gives us some idea of the crowded ensemble numbers typical in musicals of that time. It ran 137 performances.

The original sheet music cover for Watch Your Step (1914) gives you an idea of the ornate, colorful style that dominated theatrical memorabilia and advertising in the 1910s. The score by Irving Berlin included several hits, most notably the counterpoint "Play a Simple Melody," and the less well known "When I Discovered You."

Irene and Vernon Castle, the versatile dance team that took vaudeville and Broadway by storm in the 1910s. They inspired several dance and fashion crazes. Their most memorable Broadway run was in Watch Your Step (1914).