John Kenrick's Lecture Topics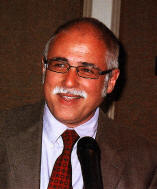 John's speak on literally hundreds of topics related to musical theatre and classic films. His schedule has run the gamut from luxury liners to the NYC Fringe Festival. He has spoken to numerous adult education programs, and lectured at numerous colleges and universities. John has given talks for The Classic Stage Company, New York's Jewish Museum, The 92nd Street Y, The Philadelphia Theatre Company, The Museum of the City of New York, the Queensborough NY Library system, and public libraries in Poughkeepsie, Oceanside and Lawrence NY.
Depending on your group's preferences and facilities, John's talks include PowerPoint slide shows and video clips, and always end with question and answer sessions.
Musical Theatre: History & Theory
World War I: When Broadway Conquered the World - As World War I broke out in Europe, Broadway began exporting hits that would entertain the world for decades to come.
Burlesque - A rich comic art form, its legacy is often misunderstood today.
Comic Strip Musicals – From Lil' Abner to Little Orphan Annie, the funny papers have been a regular feature on the musical stage.
Guilty Pleasures – A tribute to the short-lived musicals we hate to admit we love
A Helluva Town: Musicals in New York – This talk celebrates the longstanding relationship between musicals and the Big Apple.
The History of Musicals - An overview of how this art form developed. (Available as a series or a single talk.)
Curtain Up: How Musicals Get to Broadway - An insiders look at the way musicals are put together.
Human Again: Animals & Objects in Musical Theatre - The wonderful and occasionally wacky tradition of anthropomorphism on the musical stage.
Jews in the American Theatre - How a once-excluded group rose to prominence on and around the stage.
Musicals Ahoy! - From H.M.S. Pinafore to the Titanic, a look at how Broadway musicals have sailed the seas.
Of Thee I Sing!: The Presidency in Musicals - Long before TV's The West Wing, musical theatre took audiences into the White House.
Physical Fitness: Sports in Musicals - Damn Yankees, The Body Beautiful, All American -- so many musicals on stage and screen have set sports to music.
Screen to Stage: Films That Became Broadway Musicals - Screen projects now inspire many of the latest stage musicals. We'll examine how far back this "new" trend goes, and the answers may surprise you.
Vaudeville - It's performers reshaped musical plays and films, and its legacy lives on contemporary television. Just what was vaudeville?
Vive La France!: The French Influence on Musicals - The musical as we know it was born in France, and that country's influence on the art form continues to this day. From Offenbach to Schwartz to Schoenberg & Boublil.
Yiddish Theatre - A loving look at a vital ethnic art form whose influence still echoes in contemporary theatre, film and television.
---
New York City History
Broadway: A Biography - How a native trading trail grew to become the most famous (and longest) avenue on earth. Available as one talk or a four part series.
Gay Pride: More Than a Parade - The story of a human rights movement that caught fire when police raided a Greenwich Village bar in 1969, and still marches on today.
Summertime in Old New York - A breezy look at how the entertainment capital of the world passed the summer months before the arrival of air conditioning.
Theatre in New York - How a city and an art form grew together, from the 1600s to the present. Available as one talk or a four part series.
---
Great Songwriters
Irving Berlin - The Russian Jewish immigrant who wrote "God Bless America" and "White Christmas," he was a defining force in popular music for more than half a century.
George M. Cohan - Yankee Doodle Dandy is wonderful, but it hardly begins to tell the full story behind "The Man Who Owned Broadway."
Noel Coward - His extraordinary achievements as a performer, songwriter, playwright and novelist made him the beloved embodiment of 20th Century sophistication – even as he lived a private life that defied convention.
Dorothy Fields - The only woman to rise to prominence in a field otherwise dominated by men, this native New Yorker was part of a musical theatre dynasty.
The Gershwins - George and Ira, a double dose of creative genius.
Gilbert & Sullivan - This British duo brought wit, melody and sophistication to musical theatre, creating shows that have delighted audiences for more than a hundred years.
Oscar Hammerstein II - Student of Kern, partner of Rodgers, mentor to Sondheim; more than any single person, he redefined the musical theatre in the 20th Century.
Marvin Hamlisch - Accepted into Julliard at age 6, he became an overnight sensation when he won three Academy Awards in one night, and followed up by composing the mega-hit A Chorus Line.
Larry Hart - Loved by everyone except himself, this gentle genius seemed bent on self destruction; but his brilliant lyrics still delight listeners today.
Jerry Herman - This gifted composer-lyricist wrote some of the most beloved and optimistic Broadway scores of all time (Hello Dolly, Mame, La Cage Aux Folles), proving his belief that "The Best of Times is Now."
Kander and Ebb - In Cabaret, Zorba, The Rink, Chicago and other hits, this gifted team has written a series of musicals linking the "Razzle Dazzle" of show business with the core experiences of life.
Jerome Kern - This composer gave the American musical a new sophistication, creating melodies that will never be forgotten.
Lerner & Loewe - The son of an American millionaire and a poor Viennese immigrant may have seemed an unlikely team, but their exquisite scores for Brigadoon, My Fair Lady, Gigi and Camelot still delight audiences after more than half a century.
Cole Porter - This Indiana millionaire brought the crisp glamour of the upper crust to his unforgettable songs, and lived life on his own terms in an age that demanded conformity.
Richard Rodgers - With over 50 musicals to his name, he can justifiably be called Broadway's greatest composer.
Stephen Schwartz - For more than four decades, this Long Island native has delighted audiences with his scores for Godspell, Pippin and Wicked . . . yet he has never won a Tony!
Songs of World War II - From "Der Fuhrer's Face" to "Don't Sit Under the Apple Tree," Tin Pan Alley kept the world singing through the dark days of war.
Jule Styne - A discussion of one of the most versatile Broadway composers. From pop hits like "It's Been a Long, Long Time" to the Broadway hits Gypsy and Funny Girl, he was able to mold his music to whatever period or mood was called for.
---
Entertainment Legends
All About Eve - How Hollywood made this story of Broadway backstabbing into a bitchy and beloved masterpiece
Julie Andrews - From British music halls to Broadway to Hollywood, this gifted singer and actress has proven herself one of the most versatile and beloved performers of our time.
The Barrymores - John, Ethel and Lionel were the brightest figures in the "royal family" of American show business.
Tallulah Bankhead - This infamous star's outrageous personal life often obscured her remarkable talent.
Fanny Brice - The true story of the original "Funny Girl," the burlesque comic who became Ziegfeld's greatest star.
Maurice Chevalier - This charismatic Frenchman became a Hollywood icon, until political controversy and private torment almost cut his career short. How he rose, fell, and reclaimed his fame.
Marlene Dietrich - She personified glamour on the big screen and concert stage for half a century, and lived a life that consistently defied convention.
Duck Soup - How the Marx Brothers spoofed war and made a classic film that still delights after eight decades.
Nelson Eddy and Jeanette MacDonald - Dismissed as old-fashioned, they became irreplaceable figures in the history of entertainment.
Errol Flynn - How an Australian ne'er-do-well became Hollywood's favorite swashbuckling action hero -- until scandal led to his fall from grace.
Bob Fosse - His sensual dances electrified audiences in every medium; how this tortured man became one of the most honored stage and screen directors of all time.
Jackie Gleason - This Brooklyn native worked his way thru nightclubs to stardom on Broadway and early television before inventing The Honeymooners.
Gone With the Wind - A look at how the greatest film of Hollywood's studio era came to be.
Yip Harburg - The wit and social consciousness of his lyrics add sparkle to The Wizard of Oz, Finian's Rainbow and many memorable hits songs.
Jewish Women in Film - From Theda Bara to Natalie Portman, Jewish actresses have been among Hollywood's brightest stars.
Al Jolson - Billed as the world's greatest entertainer, this star of stage and screen remains a legend six decades after his passing.
George S. Kaufman - One of the great American wits of the 20th Century, this Pulitzer Prize-wining playwright co-authored and directed several landmark musicals.
Danny Kaye - This kid from Brooklyn triumphed on stage and screen, becaming Court Jester to the world.
Angela Lansbury - This versatile Hollywood character actress became one of the most beloved stars of the musical stage -- then managed a third career as a television superstar.
Patti Lupone - Acclaimed performances in Evita, Les Miserables, Anything Goes, Sweeney Todd and Gypsy have made her one of the musical theatre's most brilliant stars.
Lunt & Fontanne - The most famous husband and wife acting team in the American theatre, they left a legacy that too few appreciate today.
Mary Martin - Broadway's most beloved musical star, her performances in South Pacific, Peter Pan and The Sound of Music are hallowed memories.
The Marx Brothers - Thanks to films, this quartet's zany sense of comedy remains a vital part of our popular culture.
Ethel Merman - With a powerhouse voice and solid brass stage persona, she became the First Lady of the American Musical and one of Broadway's greatest legends.
Murder on Broadway: The Death of Stanford White - A look back at how the press used a show business murder to redefine the word "scandal."
Jerry Orbach - Before winning America's heart on TV's Law and Order, he made his mark on the musical stage starring in The Fantasticks, Carnival, Promises Promises, Chicago and 42nd Street.
The Quiet Man - How director John Ford beat the odds to film this timeless big screen valentine to the people and culture of Ireland.
Jerome Robbins - The most successful director-choreographer of Broadway's golden age, he was also one of the most hated men of his time.
Neil Simon - He rose from poverty to become a comedy legend and America's favorite playwright.
Will Rogers - Almost forgotten, he was the superstar of stage, screen and radio less than a century ago.
Schindler's List - How a broken briefcase led to the making of this landmark film about surviving the Holocaust.
The Shubert Brothers - How did three impoverished immigrant boys become the most powerful men in the American theatre?
Beverly Sills - She made opera accessible to the TV generation and redefined the role of women in classical music.
Neil Simon - Despite dozens of hit plays and films, he had to wait far too long to receive true recognition as America's greatest playwright.
Star Feud: Davis vs. Crawford - The legendary feud between Bette and Joan: fact or studio fiction?
The Ten Commandments - How director Cecil B. DeMille put together the most popular biblical screen epic of all time
Theatre Ghosts: Another Bow, And Another - Countless playhouses claim to be haunted by spirits from the past. John discusses the most famous of these specters, including some ghostly theatre experiences of his own.
Mae West - With a unique blend of brains, talent and sheer nerve, this iconic woman defied prudery both on and off the screen, proving that "Too much of a good thing can be wonderful!"
Oscar Wilde - The personification of wit, he was driven from fame for championing a "love that dare not speak its name," but is now the most widely read English author after Shakespeare.
The Great Ziegfeld - His Follies changed American entertainment , and the "Ziegfeld Girls" have become the stuff of legend. The truth behind the lore.
---
Musical Film
Fred Astaire - He personified class, dancing as no one else ever has on stage or screen. An affectionate review of the life and career of this iconic figure.
Busby Berkeley - His films brought joy to millions, but personal demons made him a nightmare to work with. A look at how this onetime chorus boy became a film legend.
Arthur Freed & MGM - Under Freed's guidance, MGM produced Hollywood's greatest musicals. How did this producer and this studio set a standard no one ever surpassed? Available as one talk or an MGM series.
Judy Garland - The greatest female star the musical screen would ever know, her incomparable talent was hampered by an often tempestuous private life.
Gene Kelly - Dancing across a rooftop or singing in the rain, he was the sexy personification of manly grace -- and his work redefined musical film.
---
Great Musicals
These talks take a detailed look at how each of these musicals were developed for the stage and/or screen, and how different productions have handled each one over the years.
Annie Get Your Gun - How a small army of Jewish Americans turned the life of the greatest female sharpshooter into a massive hit.
Chicago
Cinderella - Rodgers & Hammerstein created the most watched TV event of the 1950s, which had two successful remakes before finally reaching Broadway.
Fiddler On the Roof- How Sholem Aleichem's short stories about a Jewish milkman in a Russian shtetl became a lasting worldwide hit.
Funny Girl - The story of America's first Jewish superstar became the lanchpad for the mega-stardom of yet another.
Gigi - How Lerner & Loewe turned the scandalous tale of a teenage Parisian courtesan into a family-friendly MGM screen hit.
Gypsy
Hello Dolly
The Jazz Singer - The story behind the film that began the sound era.
The Jolson Story - Fact vs. fiction in the wildly popular film bio of a legendary entertainer.
The King and I - A dleightful look at how Rodgers & Hammerstein turned history into one of the most beloved musical of all time.
Mame
The Merry Widow
The Mikado - Gilbert Á Sullivan's greatest hit is still delighting audiences -- why is it such a lasting favorite?
My Fair Lady- Everyone told Lerner & Loewe it couldn't be done, but they turned Shaw's Pygmalion into one of the most successful musicals of all time.
Oklahoma - With this unlikely hit, Rodgers & Hammerstein rewrote the rules for Broadway musicals. A fascinating look at how this show came to be.
Peter Pan
Rent
Show Boat
Singing In the Rain - How producer Arthur Freed's team created the all-time greatest screen musical comedy.
The Sound of Music - The real life adventures of the Von Trapp Family singers inspired one of the most beloved stage and screen hits of all time.
South Pacific - The story behind a musical that won the Pulitzer for its depiction of love and prejudice during Word War II.
The Wizard of Oz - America's favorite children's story became one of the world's favorite films; a celebration of a musical that still takes us "Over the Rainbow."
Yankee Doodle Dandy - A fascinating look at how the life of stage legend George M. Cohan was turned into a flag-waving screen bio.