Musical Stage Gallery II
Compiled by John Kenrick
The photos below are in thumbnail form – to see them full size, give 'em a click! Some of them may take a few moments to download. These photos come from the author's personal archive. (For a note on rights for photos used on this site, please click here.)

The original sheet music cover for "Whip-poor-will," one of the less memorable songs in Sally (1920). The illustration shows dishwasher Marilyn Miller sharing her dreams of ballet stardom with friend Leon Errol.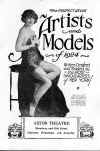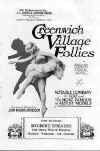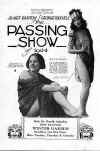 These ads for 1924 revues were in a free booklet passed out to Broadway theatre goers.

Evelyn Laye in one of the spectacular gowns she wore in the London production of The New Moon (1929), exemplifying the glamour of 1920s operetta at its grandest. Laye was a major musical stage star on both sides of the Atlantic and starred in a several screen musicals.

Evelyn Laye is also at the center of this panoramic full stage shot of the first act finale of Romberg and Hammerstein's The New Moon, as seen in its 1929 London production.

Irving Berlin provided the songs for a series of Music Box Revues, named for the theatre he co-owned with producer Sam Harris. Berlin's "What'll I Do" was introduced by John Steel and future film star Grace Moore in the 1923 edition. The young woman depicted on the sheet music cover is unidentified.