History of The Musical Stage
1960s III: The World Turned Upside Down
by John Kenrick
(Copyright 1996-2003)
(The images below are thumbnails – click on them to see larger versions.)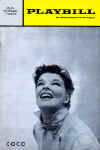 Katharine Hepburn starred in Coco (1969) singing Alan Jay Lerner's witty lyrics, but America was paying less attention to Broadway musicals in the late 1960s.
Since the early 20th Century, Broadway provided a business environment in which a small army of dedicated actors, stage hands and production staffers could count on annual employment in musical theatre. All anyone had to have was a modicum of talent, a dependable professional reputation, plus suffiecient health and stamina to deliver eight performances a week.
But in the mid-1960s, that environment faded away. As the number of new Broadway musicals dwindled, actors who occasionally worked as waiters gradually turned into waiters who occasionally took time off to act. As Jack Poggi noted in Theater in America (Cornell University Press, 1968, p. 277-278), "Broadway can no more provide a steady income to most professional actors than it can to most professional playwrights." By Poggi's estimate, only 3% of New York's professional actors earned more than $2,500 a year from stage acting -- a figure far below the poverty level.
What had happened? In simple terms, the world of popular culture had turned upside down. A chasm had opened between the hard rock/youth culture (of "drugs, sex and rock and roll") and the once dominant "establishment" culture that had long included Broadway. Producer-director Hal Prince later explained how this change affected Broadway ticket sales –
"In 1954, when we produced The Pajama Game, the week we opened we had a hit song on the radio, Rosemary Clooney's version of 'Hey There'; Of course that meant a lot to us at the box office. By the early sixties, that kind of cross-over was no longer a realistic possibility."
- Harold Prince and The American Musical Theater (New York: Cambridge Univ. Press, 1989)
Showtunes were no longer found on rock-dominated air waves and pop charts. Without the once-lucrative income from sheet music and cast recordings, composers and lyricists had to settle for the two percent of a musical's gross allotted to them in a standard contract. New talent went into the more profitable fields of pop music, television and film. Some veterans like Irving Berlin retired in disgust, while those who labored on found that styles and formulas that had worked for decades were suddenly unacceptable.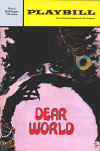 Jerry Herman re-teamed with Mame's writers and star for an adaptation of Giradoux's dark comedy The Madwoman of Chaillot. Despite a gorgeous score and a Tony-winning performance by Angela Lansbury, Dear World (1969 - 132 performances) never jelled. The whimsical story of an aging eccentric thwarting corporate plans to turn Paris into an oil field did not cry out for song and dance, but the real tragedy was that the show came and went with few people caring. A decade earlier, such a stellar failure would have received international press attention. By 1969, news of Broadway didn't matter much anywhere outside of New York City.
No one among Broadway's old guard seemed to know what to do. Jule Styne (composer of Gypsy performances) and E.Y. " Yip" Harburg (lyricist for Wizard of Oz and Finian's Rainbow) turned out Darling of the Day (1968 - 31 performances), a musical about a British artist who switches identities with his dead butler to escape publicity. A strong score, witty script and good reviews did it no favors – the public didn't seem to give a damn.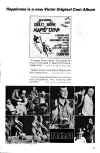 That same season, John Kander and Fred Ebb's The Happy Time (1968 - 286 performances) found that a charming score, acclaimed performances by Robert Goulet and David Wayne, and several Tonys were not enough to keep ticket sales going for more than nine unprofitable months. Director Gower Champion's stylish staging brought him two Tonys, but a weak libretto proved fatal. Happy Time's cast album ad (seem at left) was seen only in Playbill, not national magazines. It no longer made sense to spend money pushing Broadway musicals to the general public.
Even the presence of legendary stars could not guarantee a hit. The lavish Andre Previn-Alan Jay Lerner musical Coco (1969 - 332 performances) was inspired by Parisian fashion designer Coco Chanel's comeback career. Thanks to a bravura performance by non-singer Katharine Hepburn in her only musical role, this show ran almost a year. The score was polished but unexciting, and a garish physical production did little to distract audiences from the weak story line. In the end, Coco proved too costly to turn a profit, and was forced to close soon after Hepburn left the cast.
Rock: "The Age of Aquarius"
Surviving members of Broadway's old guard still had their moments. When confronted by a long-haired protestor on a college campus, onetime lyricist-librettist P.G. Wodehouse quipped, "Why don't you get a haircut? You look like a chrysanthemum." But by the late 1960s, few would disagree that the way was open for something different in musical theatre. The same hard rock sound that had long since conquered the world of popular music finally made its way to the musical stage with two simultaneous hits –
Your Own Thing (1968 - 933 performances) took the gender-switching plot of Shakespeare's Twelfth Night and reworked it around the management of a rock band called "The Apocalypse." It ran for three years, then toured. Almost forgotten now, this off-Broadway favorite was New York's first rock musical hit.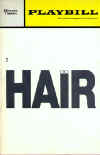 Later that same year, another surprise hit came to Broadwy by a circuitous route. Hair (1968 - 1,742 performances) had only a shadow of a plot, involving a young rock man who revels in rock and rebellion until he is drafted into the army. He falls in with a tribe-like group of hippies who sing about such pointed social issues as poverty, race relations, the Vietnam war and more. This explosion of revolutionary proclamations, profanity and hard rock shook the musical theatre to its roots.
After brief runs off-Broadway (first at Joseph Papp's Public Theatre and then a dance club) composer Galt MacDermot and librettists Gerome Ragni and James Rado revised their "happening" before moving to Broadway. "Aquarius" and "Let the Sunshine In" became chart-topping hits, and Hair's counter culture sensibility (including a draft card burning, simulated sex, and a very brief ensemble nude scene) packed the Biltmore Theatre for almost five years.
Most professionals in the theatre business were unwilling to look on Hair as anything more than a noisy accident. Tony voters tried to ignore Hair's importance, shutting it out from any honors. However, a few influential individuals insisted it was time for a change. In particular, New York Times critic Clive Barnes gushed that Hair was "the first Broadway musical in some time to have the authentic voice of today rather than the day before yesterday." Over the next few seasons, Barnes used his powerful pen to attack musicals that did not fit this new criteria. But Hair defied imitation, and other projects with "mod" titles like Celebration (1969), Salvation (1969) and Joy (1970) soon disappeared. Paying audiences had little patience for mediocre theatre, even when it appeared under the cover of rock.
Less Rocky Options
Two shows with non-rock scores found tremendous commercial success at the end of the decade. Producer David Merrick took a page from the past, and hired two of the hottest pop composers of the day with a leading comedy playwright -- all to adapt a hit film as a "mod" musical. Promises, Promises (1968 - 1,281 performances) teamed Hollywood composer Burt Bacharach and lyricist Hal David with playwright Neil Simon. Based on the film The Apartment, its score had a major hit in "I'll Never Fall In Love Again." Broadway favorite Jerry Orbach headed the cast.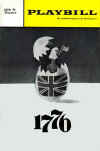 1776 (1969 - 1,217 performances) was based on the drama surrounding the drafting of America's Declaration of Independence. The unlikely subject matter worked well, turning a mummified historical event into an exciting battle between believable human beings. The vibrant score by onetime schoolteacher Sherman Edwards had no hit songs, but it was flawlessly woven into Peter Stone's powerful book. There were liberties taken with historic fact, but few dramas have ever brought the past to life with such panache. Broadway cheered, and 1776 became a Tony and Pulitzer Prize winner. (An ill-advised London production closed in a matter of weeks – surprise, surprise.)
As a popular folk song of the era put it, the times they were a-changin'. Neither Promises nor 1776 ran nearly as long as Oh, Calcutta! (1969 - 1,922 performances), a small off-Broadway revue that enticed audiences with little substance but lots of full nudity. The skits were written by an all-star line up that included John Lennon and Sam Shepard, with forgettable rock songs provided by a group called "The Open Window." It was hard to believe that this sophomoric silliness was devised by the respected British theatre critic Kenneth Tynan. At one point, one bare cast member announced, "Gee, this makes Hair look like The Sound of Music." (As if to prove the profitability of bad taste, a 1976 Broadway revival of Oh, Calcutta! ran for an even more amazing 5,959 performances.)
There were several contradictory trends in musical theatre as the 1960s ended. Hello Dolly and Fiddler on the Roof were still running strong, but they were already relics of a passing era. At the same time that veteran talents were feeling clueless, newer talents were no better off. None of the composers freshly responsible for Your Own Thing, Promises, 1776 and Oh, Calcutta! would ever write another Broadway hit.
Old or new, most stage composers had no idea what to try next. The inevitable crop of doom merchants insisted that the musical was dead. Luckily, the 1970s would bring more than a few "Little Things" that would prove to be "Singular Sensations." (If each of these allusions makes you say "God, I hope I get it," then read on. If not, that's all the more reason to read on!) The Broadway musical wasn't dead; it was just preparing to morph.