History of The Musical Stage
1970s II: Concept Musicals
by John Kenrick
(Copyright 1996; revised 2014)
(The images below are thumbnails – click on them to see larger versions.)
Sondheim & Prince: "A Spark to Pierce the Dark"

The souvenir program for Stephen Sondheim's Follies (1971) featured the striking logo that became a familiar icon to musical fans.
Five years after his bitter experience working as lyricist on Do I Hear A Waltz (1965 - 220 performances), Stephen Sondheim returned to Broadway as a composer/lyricist. He formed a creative partnership with producer/director Harold Prince, and the duo saw their innovative concept musicals become the most acclaimed hits of the early 1970s. They worked with a series of librettists on shows built around a "concept" (ie - single life vs. marriage, historic culture clashes, bittersweet reunions, etc.). Through this central issue, each show examined numerous interrelated characters and relationships. Sondheim and Prince were assisted in their first two efforts by choreographer Michael Bennett, who would independently create the most successful concept musical of all.
In One More Kiss: The Broadway Musical in the 1970s (New York: Palgrave, 2003), Ethan Mordden defines a concept musical as "a presentational rather than strictly narrative work that employs out-of-story elements to comment upon and at times take part in the action, utilizing avant-garde techniques to defy unities of time, place and action." Once a subject or situation is raised (marriage, love, finding a job, etc.) characters can comment on or illustrate aspects of the subject. There is a solid storyline, but all the major elements of these shows are linked in some way to the central concept.
Prince is not thrilled that so many of his shows are referred to as concept musicals –
"The whole label that was put on our shows, the whole notion of the 'concept' musical, was one that I really resent. I never wished it on myself. It caused a backlash and animosity towards the shows and us . . . It's called a 'unified' show, an 'integrated' show."
- quoted in Craig Zadan's Sondheim & Co. (Harper and Row, New York, 2nd edition, 1986, p. 362)
By any name, the musicals that Prince, Sondheim and their various collaborators offered in the early 1970s re-energized the Broadway musical, setting the genre on a soul-searching course that redefined the genre. Esteemed theatre historian Foster Hirsch explains how Prince and Sondheim, though different, complemented each other –
"Prince galloping ahead while Sondheim holds tightly onto the reins; Prince the affable public relations man, glibly articulating concepts and trajectories, Sondheim leery of publicity; Prince relishing the activity of the rehearsal process, Sondheim disliking it: out of the fusion of their temperamental dissimilarities they have become modernism's answer to Rodgers and Hammerstein – the makers of the self-reflexive musical."
- Harold Prince and The American Musical Theater (New York: Cambridge Univ. Press, 1989, p. 71)
George Furth's libretto for Company (1970 - 706 performances) used Bobby, a single 30-something man seeking love in contemporary Manhattan, to focus on the problems and gentle insanities of five couples – Bobby's "good and crazy" married friends – as well as the various single women vying for Bobby's hand. As Bobby confronts the emotional confusion brought on by his thirty-fifth birthday, he realizes that a myriad of friends are no replacement for sharing intimate love with one person. Bennett's choreography embodied everything from a surprise party to coitus, and Prince's direction kept this bountiful mix in sharp focus.
Dean Jones headed Company's original cast but left early in the run and was replaced by Larry Kert. Sondheim's score was pure Broadway with a contemporary edge. Much of that edge came from inventive, literate, dramatically potent lyrics. For example, the often-married character Joanne (played with sardonic relish by Elaine Stritch) observed that perfect marital relationships are made by the "tactics you employ, neighbors you annoy" and "children you destroy . . . together." Sondheim's marriage of wit and heart was a vibrant continuation of what Berlin, Porter, Ira Gershwin and Sondheim's mentor Oscar Hammerstein II had done in earlier eras. But Sondheim's lyrics spoke for a generation in the midst of a cultural and sexual revolution. As no one else before or since, he gave uncertainty and self-exploration an eloquent, intriguing voice.
In Follies (1971 - 522 performances), the libretto by playwright James Goldman centered on two former showgirls and their spouses assessing embittered marriages while attending a reunion of performers from a Ziegfeld era Broadway revue. Sondheim's wide-ranging score evoked various musical styles of the past. While the melodies had a traditional sound, the lyrics often went for the jugular, ("Could I leave you? Yes! Will I leave you? Guess!"). No musical had ever taken such a frank look at the painful realities of growing older and abandoning one's dreams. Bennett's innovative choreography was a crucial element, showing characters in a parallel past and present. Follies was not a commercial success, but its magnificent score made it a favorite with theatre buffs.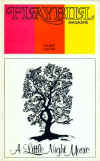 The original cast program for A Little Night Music (1974). Note the rainbow logo that Playbill soon replaced with a variation of their old black on yellow format.
For A Little Night Music (1973 - 600 performances), Sondheim and librettist Hugh Wheeler had a central love story, but like its inspirational source (Ingmar Bergman's film Smiles of A Summer Night) that romance became an excuse to focus on numerous characters and relationships. As an aging actress (Glynis Johns) tried to re-ignite a past amour with a married attorney (Len Cariou), love was examined from the perspectives of youth, middle age and seniority, creating a haunting, bittersweet collage. Sondheim composed the entire score in variations of waltz time, so even the music was built around a concept. The show's most popular number, "Send In The Clowns," would be the only time a song with words and music by Sondheim became a best-selling pop chart hit.
The following year brought Sondheim's most daring and inventive musical yet, Pacific Overtures (1976 - 193 performances). The book by John Weidman examined how Japan's ancient culture was wrenched when the American Navy forced the isolated island nation to open to international trade in 1853. The story is told from a Japanese point of view as broad array of characters take the story through the decades, with a finale set in contemporary times (skipping any mention of World War II). The score was one of Sondheim's most intriguing, including musical haiku and pastiches of Sullivan and Offenbach. Highlights included the extended musical scenes "Chrysanthemum Tea," "Please Hello" and "Someone In A Tree" – each a well crafted mini-musical that brought a separate set of characters to life.
Prince adapted ancient kabuki techniques for the staging, using a mostly male Asian cast. Pacific Overtures was so innovative that American audiences did not know what to make of it. An exquisite Off-Broadway revival won critical acclaim in 1984, but did not see a much longer run than the original -- and subsequent revivals have reached a small but dedicated audience. Perhaps this unique musical is too challenging to win mass approval.
Fosse and "All That Jazz"

The souvenir program for Chicago (1975). Eclipsed by the overwhelming success of A Chorus Line, this cynical masterpiece did not get its due until a 1996 Broadway revival and 2002 film version enjoyed overwhelming acclaim.
Bob Fosse reached his creative peak in the 1970s. While turning out acclaimed films and TV specials, he offered Broadway three dance-centered concept musicals, where a central concept drove the show, rather than a traditional plot. Fosse's directorial vision took total precedence over the book or score, an approach some referred to as "Fosse Uber Alles." The results were impressive and popular –
Pippin (1972 - 1,944 performances) used the story of Charlemagne's forgotten son as a flimsy excuse to examine jealousy, sex, war, sex, love, sex, life, sex . . . and sex. When composer Stephen Schwartz disagreed with changes made to his score, Fosse barred him from rehearsals and made more changes. Thanks to Fosse's erotically charged choreography and teasing TV ad, Pippin ran long and toured far. Critics complained about the uneven book, but Ben Vereen scored a personal triumph as the show's sensuous narrator, and John Rubenstein – who introduced Schwartz's ballad "Corner of the Sky" – charmed audiences in the title role.

Fosse's sexy choreography was also evident in Chicago (1975 - 898 performances), the saga of two 1920s flappers seeking fame through marital homicide. This concept musical cast a cynical, merciless spotlight on social hypocrisy and media-based celebrity. Fosse helped shape the libretto, staged the scenes as a series of vaudeville-style acts. Gwen Verdon (in her final musical role) and Chita Rivera were the stellar killers, and Jerry Orbach played their "razzle dazzle" attorney. The John Kander and Fred Ebb score offered a parade of showstoppers, including "All That Jazz." One of the most brilliant and biting musicals Broadway would ever produce, Chicago was overshadowed by the success of A Chorus Line (discussed on the next page of this site) and did not win a single Tony. It took a 1996 Broadway revival and a 2002 film version to bring this masterwork the popularity it deserved.

With Dancin' (1978 - 1,744 performances), Fosse took concept shows a step further and dispensed with a script and original score, building an entire evening of unrelated dance sequences around nothing more than a gifted cast, a title and pre-existing, non-theatrical musical sources like Benny Goodman's jazz classic "Sing, Sing, Sing." Alan Jay Lerner wired Fosse, "Congratulations. You finally did it. You got rid of the author, " but the public and critics adored the results, making this one of Fosse's most profitable productions. With demanding choreography that small theatre companies and amateurs could never hope to recreate, Dancin' had almost no life beyond its Broadway run and national tour.

Along with his stage hits, Fosse helmed several successful feature films, winning the Academy Award for directing the brilliant screen version of Kander and Ebb's Cabaret (1972). Although Fosse never had another original stage hit after Dancin', his legacy as a choreographer and director would outlive him. In 1999, more than a decade after his death, the Broadway dance revue Fosse (supervised by Gwen Verdon) introduced a new generation to this showman's genius.
Others were creating concept musicals, including one that eclipsed the rest of the genre. For more on this "singular sensation," as well as the 1970s passion for nostalgia, continue on to . . .