History of The Musical Stage
1970s Part V: Change
by John Kenrick
(Copyright 1996; revised 2014)
(The images below are thumbnails – click on them to see larger versions.)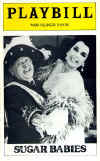 Mickey Rooney and Ann Miller on the Playbill cover for Sugar Babies (1979), a burlesque-inspired revue that became a surprise hit.
Just when it seemed that musicals with a more traditional flavor were back in style, the decade ended with critics and audiences giving mixed signals.
An energetic revival of Peter Pan (1979 - 550 performances), starred Sandy Duncan. Although it opened during a newspaper strike, word of mouth made it an immediate hit, and Duncan became the longest-running Peter in theatrical history.
MGM veterans Mickey Rooney and Ann Miller scored an unexpected smash with Sugar Babies (1979 - 1,208 performances), a mildly risqué revue of classic burlesque skits interlaced with vintage songs by composer Jimmy McHugh and lyricist Dorothy Fields. Between the Broadway run, international tour and London production, Rooney and Miller shared the spotlight for the next nine years.
The most anticipated musicals of 1979 included three major new projects by veteran writers. To the theatrical community's general shock, each came and left with chilling speed.
Jerry Herman's Grand Tour (1979 - 79 performances) offered Joel Grey as a Jew escaping Nazi persecution in a warm-hearted adaptation of Jacobowsky and the Colonel. The underrated score featured the gorgeous ballad "Marianne."

Burton Lane and Alan Jay Lerner's Carmelina (1979 - 28 performances) starred Georgia Brown as an Italian mother who told three American veterans that had fathered her child during World War II -- and must face the music when all three come back to town. Even critics who dismissed the show admired the score, particularly "It's Time for a Love Song" and the ravishing trio "One More Walk Around the Garden."

Richard Rodgers' I Remember Mama (1979 - 148 performances) offered Swedish film star Liv Ullman as a Norwegian immigrant using love and ingenuity to raise her family in San Francisco during the early 1900s. Preview audiences cheered, but after critics dismissed it as corny and old-fashioned, ticket sales quickly petered out. Rodgers died soon after Mama closed, ending an extraordinary career that stretched over more than six decades and fifty Broadway scores.

It's not so much that the public disapproved of these well-written but imperfect shows. Most Americans were not paying attention to the musical theatre anymore. Rock and disco were the predominant sounds in popular music, and neither genre had more than a token presence in most Broadway scores. Musicals had become a sort of subculture, and the potential sales for cast albums fell so low that major labels stopped recording them altogether.
To make matters worse, by 1979, most Broadway musicals cost $1,000,000 or more to produce, and weekly operating expenses were so high that even a two year run could not guarantee a profit. Some blamed the volatile economy, but Broadway was the only place where inflation (a widespread problem in the 1970s economy) had run at a rate of 400 percent. In this unsettled environment, two important musicals came to represent the forces that would compete for the soul of musical theatre in the decade to come.
Sondheim vs. Webber: The Future, Round One

The original souvenir program for Sondheim's Sweeney Todd (1979). The show's logo was based on Victorian period drawings.
While Stephen Sondheim's Sweeney Todd (1979 - 557 performances) used a conventional plot structure, its operatic score was Sondheim's most ambitious effort to date. Going further, this blood-soaked tale of an unjustly persecuted man's all-consuming quest for revenge in Victorian London explored emotional territory no musical had ever touched before. Not since Shakespeare had a poet of the theatre taken such an unflinching look into the darkest corners of the human soul. When Sweeney's cast pointed at audience members and insisted that they had a murderous hate like Sweeney's hiding inside them, it was bound to leave many theatergoers uneasy. Tony-winning performances by Angela Lansbury and Len Cariou added to the impact, as did a massive production helmed by Hal Prince. (Prince framed the action in the actual ruins of an old factory, trucked in from Rhode Island.) But this lofty accomplishment came at a crippling price. Despite a healthy run and numerous awards, the show was unable to turn a profit.
A far different musical came from England with advance hoopla that Gilbert and Sullivan might have envied. Following the pattern they had initiated with Jesus Christ Superstar, composer Andrew Lloyd Webber and librettist Tim Rice launched their stage biography of Argentina's Eva Peron as a recording. Working with director Hal Prince, they refined it on stage in London, sharpening the book's focus, toning down the rock elements and adding a touch of disco to expand the score's commercial possibilities.
By the time it reached Broadway, Evita (1979 - 1,567 performances) was a slick and stylish smash hit, with breakthrough performances by Patti Lupone as Evita and Mandy Patinkin as Che. A disco version of "Don't Cry For Me Argentina" became a hit single – one of the last showtunes to reach the pop charts in any form. Evita was a calculated triumph of stagecraft and technology, undeniably entertaining but in some ways as vapid as any of Ziegfeld's Follies. Webber and Rice depicted Eva as a whore with flair and ruthless ambition, but gave no clue as to what made her complex character tick. Meaningful or not, people liked it. Running three times longer than Sweeney Todd, it made a massive profit from productions all over the world. With this flashy victory of matter over mind, the mega-musical was born.
Both Sweeney and Evita were expensive productions with stunning stage direction by Hal Prince, and both won seven Tony Awards (including Best Musical) in adjoining seasons. The key difference: Sweeney Todd lost money, Evita made money. This was not lost on producers and investors.
It is easy for armchair critics to advocate artistic merit over financial concerns, but answer this: If you were investing $100,000 or more of your own money, would you prefer to lose it or make a profit? The inevitable answer to that question set the uneasy course of the Broadway musical for the remainder of the 20th Century.