History of The Musical Stage
The 1990s I: Corporate Musicals
by John Kenrick
(Copyright 1996, revised 2014)
(The images below are thumbnails – click on them to see larger versions.)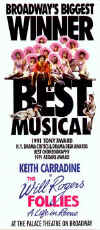 A brochure for The Will Rogers Follies starring Keith Carradine.
When all of 1990 passed without so much as one memorable new musical appearing on Broadway, fans were dismayed, but the world at large did not notice. The national media was now ignoring Broadway. To them, musical theatre was nothing more than a quirky subculture.
Less than five percent of the American public was attending the theatre on a regular basis, and most people went for years without even hearing a showtune. Broadway still attracted a core group of regular theatre goers, consisting of students, aging suburbanites, tourists and gay men – at $60 a ticket, no one else had the disposable cash required. (Students often had access to discounted rush tickets, or the time to wait on line for low priced standing room.) The most successful American hits of the early 90s were aimed at one or more segments of this core audience.
Will Rogers Follies (1991 - 983 performances) had a muddled book, but Tommy Tune's ingenious production numbers and a disarming performance by Keith Carradine in the title role kept folks cheering between yawns. In a memorable highlight, Will and the Follies chorines stopped the show with a synchronized seated dance routine during "Favorite Son," which featured tambourines masquerading as hats.

Gays and students kept managed to keep a few adventurous shows running until word of mouth brought them a wider audience. Their favorites included Secret Garden (1991 - 706 performances), an emotional and visually stunning adaptation of the classic children's tale.

Falsettoes (1992 - 489 performances) gave a brilliant musical voice to the ongoing AIDS crisis. Producers hedged their bets with a pre-Broadway tour that relied on regional season ticket sales to cover production expenses. Many expected this subject impossible to sell on Broadway, but several Tonys and a slew of rave reviews led to a profitable New York run.

Jelly's Last Jam (1992 - 569 performances) used the life story of jazz composer Jelly Roll Morton to take a frank look at racial attitudes within the black community. The main draw was Gregory Hines in his final Broadway role. He concentrated on TV and film until his death due to cancer in 2003.

Older theatergoers seeking a familiar product flocked to exquisite revivals of Guys and Dolls (1992 - 1,144 performances), Carousel (1994 - 368 performances) and Showboat (1994 - 946 performances).

Crazy For You (1992 - 1,622 performances) reworked Girl Crazy into a giddy musical comedy with sensational choreography by Susan Stroman and a score of classic George & Ira Gershwin songs. Most of the credit went to director Mike Ockrent, who pulled it all together with style. Despite a long run, it took numerous tours and foreign productions for the show's investors to see a profit.

Kander and Ebb's Kiss of the Spiderwoman (1993 - 922 performances) mixed the showbiz dazzle of Chita Rivera with a gritty tale of homosexual love in a South American prison. It won the Tony for Best Musical but tied for Best Score with Tommy (1993 - 927 performances), a stylish high-tech staging of The Who's popular 1969 rock opera.

Nothing could keep Stephen Sondheim's somber Passion (1994 - 280 performances) running for more than a few months. This ambitious look into the sometimes tragic price of human obsessions won several Tony Awards (including Best Musical) but closed within weeks of the ceremony.

"As If We Never Said Goodbye"
The British sent over more mega-musicals, but the trend was losing steam on Broadway --
The first sign of change came when Andrew Lloyd Webber's tedious soap opera Aspects of Love (1990 - 377 performances) lost over $8,000,000 despite a year-long Broadway run.

Cameron Mackintosh re-united most of his Les Miserables creative team to re-set Madame Butterfly in the middle of the Vietnam War. Miss Saigon (1991 NYC - 4,097 performances) opened in London and later conquered Broadway, after a heavily-publicized union fracas over casting British actor Jonathan Pryce as a Vietnamese character. One of the most successful mega-musicals, Miss Saigon toured the planet and sold mountains of souvenirs. In the US, suburbanites and tourists lapped up the tragic East-West love story and lavish special effects -- most notably a mechanized helicopter that landed an took off again in full view. This was the last time Macintosh triumphed with his patented mega-musical approach.

Blood Brothers (1993 - 840 performances) told the story of two brothers separated by adoption who wind up on a tragic collision course. This tear-jerker lasted two years in New York thanks to a determined producer, but it never recouped its original costs. A West End revival would far surpass the original London run.

Thanks to a lack of competition, Webber's $11 million adaptation of Sunset Boulevard (1994 - 977 performances) swept the 1995 Tonys, but it was a hollow victory. Although Broadway audiences worshipped as divas Glen Close, Betty Buckley and Elaine Paige took turns portraying Norma Desmond, the production had such a high weekly maintenance cost (many small towns used less electricity than this production) that even a three year run could not turn a profit.

Other British mega-productions either died in London (Martin Guerre) or on the pre-Broadway road (Whistle Down the Wind), and expensive attempts to copy the British style (Poland's Metro, Holland's Cyrano and America's Shogun) failed on Broadway. The public had seen too many lavish spectacles that sang too loudly and took themselves far too seriously. Audiences on both sides of the Atlantic were tiring of the mega-musical format.
The Corporate Musical: "Put Our Service to the Test"
Broadway's biggest money maker in 1994 was Beauty and the Beast (1994 - 5,464 performances), the first stage project from Walt Disney Productions. It was no match for the glorious animated film it was based on, but it had tremendous box office appeal. People with no interest in the theatre were happy to pay top dollar to bring their children to Beast. True to form, the Broadway community pretended with all its might that nothing important was happening. Beast was pooh-poohed by the critics and denied the major Tonys, but a seasoned entertainment corporation with massive marketing clout was out to show the old pros a new way of doing things.
"We are bringing a new way of thinking to the theatre," says producer (of Beauty and the Beast) Robert McTyre, "both creatively and business-wise. On the creative end, the show is a very collaborative effort. with many more people involved and contributing than usual. And, on the business side, we bring financial discipline."
- Mark Lassell, editor, Disney on Broadway (New York: Disney Editions, 2002), p. 28.
Beauty and the Beast was faithfully replicated in cities all over the world, with actors giving careful imitations of the original Broadway cast in a rainbow of languages. Kids who loved the animated movie were delighted, parents were relieved to find a clean show, and dollars rolled in. Not surprisingly, souvenirs became a bigger money maker than ever. After all, if the British wrote the book on auxiliary entertainment marketing, the folks at Disney had long since built the library.

Broadway at 42nd Street: The newest "Disney World."
The triumph was complete by the time Disney's The Lion King (1997 - 6,900+ performances, still running) came to Broadway. It premiered in the New Amsterdam Theatre, one-time home of Ziegfeld's legendary Follies. The Disney Corporation purchased and restored this venerable theatre, opened a large retail shop next door, and planned an ultra-modern Disney hotel just up the block. So what if Lion King's score was forgettable and the whole production little more than a $12,000,000 puppet show? It was the biggest hit of the 1990s. No one cared who was in the cast – more than ever, the show was its own star. While some still claim that Rent was revolutionary, Lion King did far more to change the commercial landscape of Broadway.
"I think one of the most interesting things about our approach to this musical (ie - The Lion King) is that none of the composers are Broadway theater people, so we are drawing upon our varied past experiences. We are not thinking in terms of 'this is how a musical is done.' We are thinking in terms of how we want to do it."
- co-composer Mark Mancina, as quoted in Disney on Broadway, p. 65.
People who had never been interested in the theatre lined up for The Lion King, and even a price hike to $80 a seat didn't prevent the show from selling out for a year or more in advance. The Tony Awards now groveled before this new regime, giving The Lion King the Best Musical Tony (despite the fact that Best Score and Best Book went to Ragtime). The all-American Corporate musical was triumphant and hit-hungry Broadway was in no mood to argue. London soon had an identical sold-out production, and The Lion King remained a hot ticket on both Broadway and the West End until well into the next decade.
A corporate musical is built, produced and managed by multi-functional entertainment corporations like Disney or the now-defunct Canadian corporation Livent. These shows may begin as the idea of a composer or writer, but most of each project's development is corporate sponsored and controlled. While the staging of these shows may reflect the stamp of creative individuals, corporate musicals exude the anonymous efficiency of a department store. They look quite impressive, flow with ease, provide an effulgence of pop ballads and may even make viewers smile on occasion (which is more than most British mega-musicals ever did). They can also be reproduced for foreign or touring productions with matching sets and casts – no need for high-priced stars. What's missing is the creative edge and joyous vitality that no corporate consciousness can provide.
In such an environment, experiment was almost impossible – even when a show masqueraded as something new. For more . . .