History of the Musical Stage
2000-2009 Part I:
Musical Comedy Returns
by John Kenrick
(Copyright 2005; revised 2014)
(The images below are thumbnails – click on them to see larger versions.)
Musical Comedy Returns: "Where Did We Go Right?"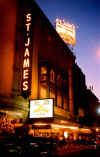 Crowds line up outside The Producers, the most Tony-winning musical to date.
The year 2000 found the Broadway community quite unsure of what the future of musical theater could be. James Joyce's The Dead (2000 - 111 performances) was written by men with no experience creating musicals -- and it showed. The plot: after sharing a Christmas celebration with friends, a Dublin couple realizes that their marriage is a sham. That a cast of musical stage and screen veterans would take part in such a dull project was symbolic of how desperate actors had become for a chance to appear in a new Broadway musical.
Disney scored a commercial hit with Aida (2000 - 1,852 performances) with Verdi's slave princess and a war hero sharing romance and death in ancient Egypt. However, the Elton John-Tim Rice pop rock score offered little substance to back-up a high tech production. Susan Stroman's Contact (2000 - 1,008 performances) triumphed with a trio of experimental dance pieces that wowed the critics and swept the Tonys. Unions and theatrical purists protested that a show with no orchestra and no book was not really a musical, but few ticket buyers seemed to mind as they packed the house to see "The Girl in the Yellow Dress" (the ravishing Deborah Yates) taunt handsome Boyd Gaines.
The following season got off to a promising start when critics raved for The Full Monty (2000 - 768 performances), based on the hit 1997 film about a group of unemployed men who try to make a few bucks stripping in a ladies club. David Yazbek's workable score was no match for Terrence McNally's witty book, and business was far from sell-out level.
Amid a slew of revivals and ill-conceived new shows, Mel Brooks brought in his long-threatened musical adaptation of his 1967 screen classic The Producers (2001 - 2,502 performances). Nathan Lane played the manic producer Max Bialystock, who hopes to make millions staging a Broadway flop, assisted by Matthew Broderick as the nebbishy accountant Leo Bloom. Staged by Susan Stroman, it picked up a record-setting 14 Tony Awards. The full sized, shameless Broadway musical comedy, long considered extinct, was back and roaring. The sore point was that, for all its laughs, The Producers had almost no genuine sentiment – but few complained, even when Brooks priced the best seats at a chilling $485. It was hard to say which was more frightening – the greed of someone willing to charge such a price, or the stupidity of those willing to pay it. But with Full Monty, The Producers and a sensational revival of 42nd Street running strong, musical comedy was once again the dominant force on Broadway.
This coincided with a period of creative stasis in London's West End. A musical comedy based on the hit film The Witches of Eastwick and Andrew Lloyd Webber's heavy-handed The Beautiful Game (about British football) had their admirers but did not find an international audience. As far as musicals were concerned, the ball was once again very much in America's court, and Broadway did its damnedest to keep it that way – even after an event that redefined New York City's way of life for years to come.
Dark Times, Fresh Humor
When a terrorist attack destroyed the World Trade Center towers on Sept. 11th, 2001, every theater on Broadway went dark for two days, but the theatre then regrouped and carried on. Just ten days after the attacks, the outrageous musical satire Urinetown (2001 - 965 performances) opened to rave reviews. The surrealistic plot involved a drought-plagued city where the impoverished populace confronts a monolithic corporation controlling waste management – a musical about the right to pee! A dark send-up of every imaginable theatrical convention, it became the sleeper hit of the season and proved that playful (rather than vicious) satire still had commercial possibilities on Broadway. Audiences were so busy laughing that they didn't complain when Urinetown spoofed them for needing to be told "that their way of life is unsustainable." Like the great musical comedies of a previous age, Urinetown succeeded by offering humor with an intelligent edge – what some have called "serious fun."
The London-born Mamma Mia (2001 - still running) roared into town a few weeks later, offering a familiar comic plot (a mother must confront the three men who might be her daughter's father) rebuilt around old hit songs by the pop group Abba. Critics were under-whelmed, but enthusiastic audiences kept the Winter Garden sold out for years to come. On Broadway and on tour, Mamma Mia's pure joy sold a heck of a lot of tickets. It was the first in a wave of jukebox musicals, "new" shows built around existing pop songs. Some of these pop-athons were revues, but most were book musicals where the songs came first, the plot second..
Broadway legend Elaine Stritch returned in a one-woman triumph, At Liberty (2002 - 69 performances), winning this gifted lady the Tony she had waited half a century for – albeit a special award, not one for Best Actress. The big winner of the 2000-2001 season was Thoroughly Modern Millie (2002 - 904 performances), a tap-happy adaptation of the 1967 movie musical. The new songs were mediocre, but vintage showstoppers by Gilbert & Sullivan and Victor Herbert combined with sensational choreography to garner several Tonys, including Best Musical.

Hairspray – the new millennium's wave of musical comedies rock n'rolled onward.
Many enjoyed Movin' Out (2002 - 1,202 performances), a dance musical built around the pop songs of Billy Joel, and Baz Luhrmann's updated Australian Opera production of Puccini's opera La Boheme (2002 - 228 performances) won justified raves during its brief run. Broadway marked Richard Rodgers' 100th birthday with rewritten flop revivals of The Boys From Syracuse and Flower Drum Song. Bernadette Peters starred in a minimalist revival of Gypsy (2003 - 451 performances) that pleased some but disappointed purists. The long-awaited German hit Dance of the Vampires (2002 - 56 perfs + 61 pvws) offered Michael Crawford in an incoherent blend of misfired comedy and passionless romance, and a well intentioned stage version of the film hit Urban Cowboy (2003 - 60 perfs + 23 pvws) soon two-stepped its way into obscurity.
The new musical comedy trend rocked on with the arrival of Hairspray (2002 - 2,642 performances). Based on a popular 1988 film by John Walters, it told the story of an overweight Baltimore girl finding romance and stardom on a local TV show in the early 1960s. With a hilarious book and giddy period-flavored score, it gave Harvey Fierstein a chance to camp his way to glory as Broadway's ultimate drag mama. Hairspray became the third American musical comedy in a row to win the Tony for Best Musical – and the third winner in a row based on a decades-old movie.
Witches, Puppets and Jukeboxes
The following season brought a lavish musical adaptation of Wicked (2003 - still running), the best-selling novel that re-tells Baum's Wizard of Oz from the Wicked Witch's point of view -- a reminder that history is often told (and distorted) by the so-called "winners." Veteran composer-lyricist Stephen Schwartz offered that increasingly rare thing: a sophisticated score that benefits from rehearing. The massive Wicked was considered a front-runner for the Tonys, but it was unexpectedly eclipsed by a small, unassuming charmer.

A handbill for the original Broadway production of Avenue Q.
Avenue Q (2003 - 2,534 performances) was an intimate, low-budget musical comedy about life among struggling 30-somethings in New York's outer boroughs. With Muppet-style puppets, some mild naughtiness (coy ads promised "full puppet nudity") and an irreverent sense of humor, Avenue Q quickly moved from Off-Broadway (adopted by the producers of Rent) to win rave reviews and Tonys for Best Book, Score and Musical. After a long Broadway run, the production relocated to a smaller off-Broadway venue where reduced costs kept the laughs coming.
Of course, it helped that the Tony committee classified Stephen Sondheim's brilliant Assassins (2004 - 101 perfs + 26 pvws) as a "revival" -- despite the fact that the show clearly qualified as a new show under previous eligibility guidelines. This daring production had to settle for winning Best Revival and Best Director of a Musical -- for Joe Mantello, who had also helmed Wicked. Ah, what a small world Broadway can be.
The following season saw the zany Monty Python's Spamalot (2005 - 1575 performances) win the Tony for Best Musical over the toughest competition of the decade. The good news was that Dirty Rotten Scoundrels (2005 - 666 performances), A Light in the Piazza (2005 - 504 performances) and The 25th Annual Putnam County Spelling Bee (2005 - 1,136 performances) all enjoyed profitable runs, proving that there was still a diverse audience for new, high-quality Broadway musicals. However, this golden moment would prove short-lived. The second half of the decade would see the showtune give up a forty-plus year battle to stand its ground against changing tides in popular music. Rock and pop would finally reign supreme, and the sound perfected by Kern, Berlin, Rodgers and Sondheim would become a thing of the occasionally revisited past.