Special Report
Funny Girl Debunked: Fanny Brice Facts
by John Kenrick
Copyright 2003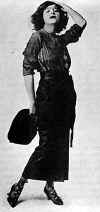 Fanny Brice as she appears on the sheet music for "Rose of Washington Square," which she introduced in Ziegfeld's Midnight Frolics.
Although the stage and screen hit Funny Girl is inspired by the life of singer-actress Fanny Brice, the plot is mostly delicious fiction with an occasional fact thrown in. Both the play and movie were produced by Fanny Brice's son in law, Ray Stark, who had the unenviable task of appeasing Fanny's surviving family and associates -- including Nick Arnstein. With Nick only too eager to initiate a lawsuit, Stark had to reshape history. And as Nick's character was fictionalized, other aspects of the story had to change too.
Keep in mind that Ray Stark's goal was not to teach a history lesson, but to create great entertainment -- and he succeeded. It is not the goal of this page to belittle Funny Girl, but just to set the record straight about some historical aspects of the story.
Fanny's family name was Borach. After her career took off in burlesque, she changed it to Brice, but her mother was always known as Mrs. Rose Borach.
Fanny was not an only child, but the third of four.
Fanny's parents owned a chain of profitable saloons in Newark, New Jersey. So they raised their family in comfort, with household servants and trips to visit relatives in Europe.
Fanny's mother Rose spent years managing those saloons while her husband played cards and drank heavily. Rose finally got a legal separation, sold off the saloons and took the kids to Brooklyn, where she
made a good living buying and selling real estate. While Fanny struggled towards fame, her family lived in a series of handsome apartments and townhouses, including one on Manhattan's swanky Beekman Place – nothing like the lower class Henry Street life seen in the musical.
Fanny made her amateur debut as a solo singer at Frank Keeney's popular Brooklyn vaudeville theatre. She was never part of the chorus, on roller skates or otherwise.
Fanny was fired from a chorus by Broadway legend George M. Cohan. He dropped Brice from the Broadway cast of Talk of the Town because she could not dance. To cover her disappointment, Fanny claimed she was dumped because of her "skinny legs." That incident inspired the Keeney scenes in the musical.
Fanny did not meet Nick Arnstein at Keeney's.
In her teens, Fanny was married to (and quickly divorced from) Frank White, a small town barber with a taste for young actresses. Although the union was brief, Fanny later claimed it was consummated, so she lost her sexual innocence years before meeting Nick.
Funny Girl makes no mention of Fanny's friendship with Irving Berlin. His "Sadie Salome Go Home" helped Fanny break into the big-time.
Fanny was not in Brooklyn burlesque when Ziegfeld sent for her. In fact, she had already made her legit debut in a touring Shubert Brothers production.
While it is true that Fanny performed material her own way, the pregnant bride number depicted in Funny Girl never happened. If it had, Florenz Ziegfeld would have fired her on the spot, no matter how much the audience laughed. Fanny actually made her Follies debut in 1910 singing the now forgotten song "Lovey Joe."
In 1910, the Follies still performed at The Jardin de Paris, an open air summer theater atop the now-gone New York Theater. The Follies did not move to the New Amsterdam Theater until 1913.
Fannny and Ziegfeld always treated each other with professional and personal respect. She always abided by his creative decisions, and never "gave him an ulcer."
Nick Arnstein "gorgeous"? Oy vey! Compared to who – William Howard Taft? He may have been sophisticated, and at 6'6" he towered over most men, but he was not a beauty.
Fanny first met Nick in Baltimore while on tour in the Shubert Brother's 1912 revue Whirl of Society. Betting on horses under the alias "Nick Arnold," his real name was Julius Arnstein. He used several aliases to cover his international criminal record.
Nick tagged along with the Whirl of Society tour, returned to New York with Fanny, and immediately moved in with her and her mother. He also began spending Fanny's money. Mrs. Borach saw through Arnstein's charms and distrusted him from day one.
Fanny had Nick investigated and learned he was still married to his first wife. Hopelessly in love, Fanny pretended it didn't matter. She had to wait seven years for his divorce to come through, and married him in 1919 -- just two months before the birth of their daughter Frances.
Nick and Fanny did sail to England on The Homeric, but he didn't win any jackpots on the voyage. Instead, he shamelessly lived it up while Fanny supported him. And the trip was planned -- Fanny never left a show to follow after Nick.
Funny Girl depicts Arnstein as a classy gambler who turned to crime because he didn't want to live on Fanny's money. Not so! Nick was a common criminal and had no qualms about sponging off Fanny for their entire marriage. Before meeting her, he had already been arrested for swindling in three European countries. Shortly after they met (and before their marriage), he was jailed for wiretapping. The lovesick Fanny visited him weekly in Sing Sing, so she knew what he was long before they exchanged vows..
Nick and Fanny had a daughter named Frances (who later married producer Ray Stark) and a son named William who became a respected artist and college professor. By mutual agreement, William was not mentioned in Funny Girl.
The film version of Funny Girl shows Fanny doing a "Baby Snooks" routine in the Follies on the night in 1920 that Ziegfeld tells her Nick has been arrested. In fact, she did not create Snooks until the 1933 Follies – a year after Ziegfeld's death.
Fanny owned a Manhattan townhouse on West 76th Street and a large county place in Huntington, Long Island. Her money paid for both, so Arnstein's financial losses never changed their living arrangements.
Funny Girl suggests Nick's big "mistake" was selling phony bonds. In fact, he was part of a gang that deliberately stole five million dollars worth of Wall Street securities – a tremendous sum in 1920. Instead of gallantly turning himself in as depicted in the film, he stayed in hiding for four months, leaving Fanny to face intense press and police harassment while giving birth to their son William. When Nick finally surrendered to the authorities, he fought the charges on every possible technicality for four years - and three guesses who worked like a slave to pay off Nick's gargantuan legal bills..
A federal court finally threw Nick into Leavenworth for 14 months, where Fanny used her influence to arrange for special treatment (including meals cooked by the warden's wife!).
Fanny finally divorced Nick in 1927 after discovering that he was having an affair with an older, wealthier woman.
Nick attempted a reconciliation with Fanny in the late 1940s, but she wisely chose not to risk dealing with him again.

We hope this clarifies some misunderstandings. Again, this page is not trying to rain on anyone's parade, but rather to enlighten those who are curious about the history behind all the swell razzle dazzle.

Return to: Musicals vs. History