Demolished Broadway: Theatres - C to D
Compiled by John Kenrick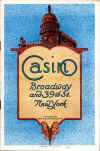 The Casino Theatre's program cover shows the Moorish tower that loomed over Broadway for over 40 years.
(The images on this page are thumbnails – click on them to see larger versions.)
226 West 42nd Street
Built: 1914
Later named: Cohan & Harris, Sam H. Harris
Seats: 1,050 or 1,200 (sources differ)
Architect: Thomas Lamb
Note: Originally named for the Candler family, whose Coca-Cola fortune built the surrounding office building. Renamed Cohan & Harris in 1916, it became The Harris 1921. A movie grind house from 1933 to 1988, it was in disuse through the 1990s. The interior was gutted to make way for Madame Tussaud's, and no exterior trace of the old theatre facade remains.
Noteworthy Musicals: Hitchy Koo of 1917, The Royal Vagabond (1919)

The Casino Theatre appears on this postcard postdated March 1905. The sender's inscription reads, "This building was just burned about a month ago." The Casino was soon restored and remained in use for another quarter century.
Broadway at 39th Street
Built: 1882
Demolished: 1930
Seats: 875, later increased to 1,458
Owners/Managers: Rudolph Aaronson (1882-1893), George Lederer (1893-1902), The Shuberts (1902-1930)
Architects: Kimball & Risedall
History: With a cafe, roof garden and and unusually ornate Moorish auditorium, this became a top rank venue for musicals, particularly operettas. After a fire in 1905, the Shuberts restored the interior and substantially increased the seating capacity. It remained in use for another quarter century, until it was demolished to make way for an office building.
Noteworthy Musicals: The Queen's Lace Handkerchief (1882), Erminie (1886) Floradora (1900), A Chinese Honeymoon (1902), The Vagabond King (1925), The Desert Song (1926)
Corner of Sixth Avenue and 48th Street
Also named: RKO Roxy
Built: 1932
Demolished: 1955
Seats: 3,509
Owners/Managers: The Rockefeller Family
Architect: Reinhart & Co.
History: After housing several spectacular operetta productions, this huge auditorium became home to a series of popular 1940s ice shows produced by Olympic ice skater and movie star Sonja Henie. It was also used as a radio and television studio -- Ethel Merman and Mary Martin broadcast their historic joint concert from here in 1953. Two years later, it was demolished to make room for The Radio City Parking Garage.
Noteworthy Musicals: The Great Waltz (1934), White Horse Inn (1936)
1567 Broadway at 47th Street
Built: 1918
Later named: Holiday, Odeon, Columbia, Forum 47th Street, Movieland
Demolished: 1999
History: Lacking hits, this house became part of Minsky's burlesque chain (1931-1934). After a brief return to legit use as the Holiday in the mid-1950s, it remained a movie house until the 1985. Used as a deli and a nightclub in the 1990s, the property was sold for $31 million and was demolished to make way for the high rise W Hotel.
Noteworthy Musicals: Always You (1920), As You Were (1920), Poor Little Ritz Girl (1920), Princess Virtue (1921), The Melody Man (1924)
- see Jolson's 59th
- see New Theatre
- see Punch and Judy
Chatman Street (now Park Row), between Duane & Pearl Streets
Built: 1822
Demolished: ??
History: This combination saloon, pleasure garden and theatre specialized in low-priced entertainment. Admission was a flat 25 cents. The building was converted into a Presbyterian chapel in 1832.
East side of Chatham Street (now Park Row) between Roosevelt & James Streets.
Built: 1839
Demolished: 1862
History: Frank Chanfrau appeared here as "Mose" in a series of farces with songs. This house was renamed Purdy's National Theatre in 1850, and housed the first stage performance of Uncle Tom's Cabin in 1852. It became a concert saloon in 1860, and was demolished two years later. Part of the structure became a furniture store and remained standing into the early 1900s.
1825 Broadway at 60th Street
Built: 1901
Demolished: 1954
Architect: Charles Cavanaugh; renovated by Thomas Lamb (1906)
History: This small theatre on Columbus Circle was built to be a music hall, but was used for plays and some small, short-lived musicals.
Musicals: The Merry Go Round (1908), School Days (1908), The Queen of the Moulin Rouge (1908), In Hayti (1909)
- see Candler
1887 Broadway (near 62nd Street)
Built: 1905
Later Named: New Colonial, Harkness
Demolished: 1977
Seats: 1,265
Architect: George Keister
History: Built by the owners of the Hippodrome, the Colonial aimed to be a British-style music hall – but quickly switched over to standard vaudeville. In 1912, it became part of the Keith circuit, and converted to Broadway use in the 1920s. It was a movie house in the 1940s and 50s, and a TV studio in the 1960s. Rebecca Harkness bought and renovated the theatre in 1971 for her ballet company, which went broke after one season. There were a few Broadway bookings in the mid-1970s, after which the building was sold off to a developer. This location is currently a condominium tower with a public atrium and rock climbing wall filling the space once used by the theatre.
Musicals: Runnin' Wild (1923), So Long 174th Street (1976), Ipi-Tombi (1977)
108 West 41st Street
Built: 1909
Later named: Mercury, Artef
Demolished: 1942
Seats: 623
Architect: D.G. Malcolm
Owners/Managers: The Shuberts
History: Too small to attract musical tenants, this theatre is sometimes remembered as the home of Orson Welles and John Houseman's Mercury Players (1937-1940).
152 West 54th Street
Built: 1928
Later names: Adelphi, 54th St., George Abbott
Demolished: 1970
Seats: 1,434
Architects: R.E. Hall and Co.
Owners/Managers: The Shuberts (1944-1970)
History: It is unclear who this theatre was originally named for – one source suggests a developer named it after his attorney's son. Often dismissed as an unlucky house, the Craig was renamed Adelphi in 1934. It became a DuMont TV network studio in the 1950s – early episodes of The Honeymooners were broadcast from here. The theatre returned to legitimate use in 1957, became The 54th Street in 1958, and was renamed for director George Abbott in 1965. After housing a series of expensive flops, it was demolished to make way for a high rise Hilton Hotel.
Noteworthy Musicals: On The Town (1944), Street Scene (1947), Look Ma I'm Dancin' (1948), No Strings (1962), Darling of the Day (1968), Buck White (1969), Gantry (1970)
- see Hammerstein's Olympia - Lyric
1221 Broadway at 30th Street
Other names: Banvard's Museum (1867), Wood's Museum (1868), Broadway (1876), Metropolitan
Built: 1867
Demolished: 1920
Seats: 2,265
Owners/Managers: John Banvard (1867), Henry Wood (1868), Augustin Daly (1879), The Shuberts
History: Initially a "museum" theatre, this house was renamed by each of its many owners. It housed two historic musical runs.
Noteworthy Musicals: Ixion (1868), The Geisha (1896)