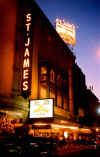 St. James
246 West 44th Street
Previous name: Erlanger
Built: 1927
Seats: originally 1,509 - now 1,706
Owners/Managers: A.L. Erlanger (1927-1930), Lodewic Vroom (1930-1941), The Shuberts (1941-1957), Jujamcyn (195-present)
Architects: Warren & Wetmore; renovated by Frederick Fox (1958)
History: Originally named for theatre owner Abe Erlanger, it was renamed in 1932 for London's popular St. James theatre. The relatively plain interior was handsomely redesigned in the 1950s, but recent renovations have removed a mural that once surrounded the orchestra section. Few theatres have been home to as many musical hits.
Noteworthy Musicals: Merry Malones (1927), Billie (1928), Fine and Dandy (1930), Walk a Little Faster (1932), May Wine (1935), Oklahoma (1943), Where's Charley? (1948), The King & I (1951), Pajama Game (1954), Lil' Abner (1956), Flower Drum Song (1958), Do Re Mi (1960), Subways Are For Sleeping (1961), Hello Dolly (1964), My Fair Lady (Revival - 1976), Barnum (1980), My One and Only (1983), Secret Garden (1990), Gypsy (Revival - 1989), Forum (Revival - 1996), The Producers (2001)
Sam S. Shubert
221 West 44th Street
Built: 1913
Seats: originally 1,391 - now 1,447
Owners/Managers: The Shubert Organization (1913-present)
Architect: Henry B. Herts
History: Lee and Jacob Shubert named this theatre in memory of their brother Sam, who was killed in a 1905 train wreck. The Shubert Organization maintains offices on the upper floors and considers this their flagship house, so they make a point of trying to fill this theatre with hits.
Noteworthy Musicals: The Belle From Bond Street (1914), Maytime (1917), Greenwich Village Follies (1920-25), Countess Maritza (1926), The Gay Divorce (1932), Babes in Arms (1937), I Married an Angel (1938), Hold Onto Your Hats (1940), By Jupiter (1942), Bloomer Girl (1944), High Button Shoes (1947), Paint Your Wagon (1951), Can-Can (1953) Bells Are Ringing (1956), Take Me Along (1959), Stop the World (1962), The Apple Tree (1966), Golden Rainbow (1966), A Little Night Music (1973), Over Here (1974), A Chorus Line (1975), Chicago (Revival - 1996), Spamalot (2005)
Studio 54
254 West 54th Street
Previous names: Gallo Opera House, New Yorker, Casino de Paris, Palladium, Federal Music Theatre, New Yorker, CBS Studio 52
Built: 1927
Seats: originally 1,200 - now 920
Owners/Managers: Fortune Gallo (1927-1929), Continental Music Halls & Billy Rose (1933-1935), WPA (1937-1939), CBS (1942-1976), Steve Rubell and Ian Schrager (1976-1980), currently managed by the Roundabout Theatre Company
Architect: Eugene DeRosa
History: Constructed for the Gallo Opera Company, this house soon converted to theatrical use. Renamed the New Yorker, it housed a series of flops before being converted into a posh nightclub called Casino de Paris. The space was used as a British style music hall in 1936 and called the Palladium. The space served as a CBS studio from 1942 until 1976. In 1977, promoters Steve Rubell and Ian Schrager turned the space into the disco Studio 54, which reigned briefly as New York's glitziest nightspot. It is currently one of several venues operated by the Roundabout Theatre.
Noteworthy Musicals: Rainbow (1928)The Swing Mikado (1939), Cabaret (Revival - Moved)
Vivian Beaumont
Built: 1962
Seats: 1,189
Owners/Managers: Lincoln Center
Architect: N/A
History: N/A
Musicals: Anything Goes (Revival - 1987), Contact (2000)
Walter Kerr
219 West 48th Street
Previous Name: Ritz, Robert F. Kennedy Children's Theatre
Built: 1921
Seats: originally 974, now 920
Owners/Managers: The Shuberts (1921-??), Jujamcyns (1983-present)
Architect: Herbert J. Krapp
History: Long known by the generic name Ritz, this theatre was primarily used as a broadcast studio from 1939 through 1970. It was known as the Robert F. Kennedy Children's Theatre from the early 1970s through the early 1980s. Both the interior and exterior were magnificently restored when this house was renamed for the late NY Times critic Walter Kerr in 1990. Now one of the handsomest theatres on Broadway, it has housed a few intimate musicals.
Noteworthy Musicals: Hassard Short's Ritz Revue (1924), Bye Bye Bonnie (1926), New Faces of 1943, Grey Gardens (2006)
August Wilson
243 West 52nd Street
Previous names: Guild, ANTA, Virginia
Built: 1925
Seats: originally 914 - now 1,261
Owners/Managers: The Theatre Guild (1925-1943), WOR Mutual Radio (1943-1950), American National Theatre and Academy (1950-1981), Jujamcyn (1981-present)
Architect: Crane & Franzheim
History: Built as the home of the Theatre Guild, this theatre has had various tenants over the years. It is currently named for playwright August Wilson.
Noteworthy Musicals: Garrick Gaities (1930 - 3rd Edition), Bubbling Brown Sugar (1976), Carrie (1988), Jelly's Last Jam (1992), Smokey Joe's Cafe (1995), Flower Drum Song (Revival - 2002), Jersey Boys (2005)

Winter Garden
1634 Broadway (between 50th & 51st Streets)
Built: 1911
Seats: originally 1,533 - now 1,495
Owners/Managers: The Shubert Organization
Architect: William Albert Swasey
History: This is the only current Broadway theatre space that was not built to serve as a performance space. In 1881, William K. Vanderbuilt and several partners built this structure to serve as the American Horse Exchange, which served for more than two decades as Manhattan's premiere center for horse trading, stabling and practice riding. In 1911, producer Lew Fields had the idea of turning it into a theatre, but the Shuberts quickly took over the project, and made the Winter Garden a top night spot. They installed exposed steel beams in the auditorium ceiling to look like the rooftop "summer garden" popular on Broadway at that time. Al Jolson starred here in a series of hit musicals from 1911 through 1925, including La Belle Paree (1911), Sinbad (1918) and Big Boy (1925). The postcard photo above left shows how the theatre looked when it housed The Passing Show of 1920. The Shuberts had the auditorium lavishly redecorated in 1922, improving the acoustics with the addition of a new solid ceiling. Jolson filmed scenes of The Jazz Singer here in 1927. The Winter Garden served as a movie house from 1928 to 1933, and again from 1945 to 1948. Since then, it has been a fulltime Broadway venue, housing many memorable musicals, including West Side Story, Funny Girl, Mame and the record-breaking hit Cats.
Noteworthy Musicals: The Passing Show (1912-1924), At Home Abroad (1935), Hellzapoppin (1938), The Ziegfeld Follies of 1943, Mexican Hayride (1944), As the Girls Go (1948), Top Banana (1951), Wonderful Town (1953), West Side Story (1957), The Unsinkable Molly Brown (1960), Funny Girl (1964), Mame (1964), Follies (1971), Gypsy (Revival - 1974), Pacific Overtures (1976), Beatlemania (1977), 42nd Street (1980), Cats (1982), Mamma Mia (2001).
Return to: Broadway Theatres: Past & Present