Cabaret 101
Cabaret History: Part II
by John Kenrick
(Copyright 1996-2003)
(The images below are thumbnails – click on them to see larger versions.)

French chanteuse Edith Piaf appeared at The Versailles in the late 1940s.
In the 1950s, Mike Nichols and Elaine May began their careers in New York cabarets. Others top stars presented their acts in elegant supper rooms like the The Empire, The Versailles and The Marseilles. In these intimate spaces, performers knew that every nuance and gesture was clearly visible to the entire audience. To succeed, they had to be good, and they had to know how to handle difficult people – alcohol turned more than a few customers into hecklers. However, those with talent and guts were able to earn some much needed attention.
In New York's Greenwich Village, The Vanguard showcased many future stage stars, including Betty Comden, Adolph Green, Judy Holliday and Eartha Kitt. Uptown on East 56th Street, the more pretentious Le Ruban Blue showcased many of the same performers, as well as Pat Carroll, Kaye Ballard, Charlotte Rae, Carol Burnett, and Dorothy Loudon. The Blue Angel, and The Purple Onion were also popular spots.
Jan Wallman made The Duplex in Greenwich Village a second home for young comics like Joe Stiller and Anne Meara, Woody Allen and Joan Rivers. Savvy club owners encouraged performers to develop their skills, as both Broadway and television looked to these clubs for fresh talent. Audiences came regularly, hoping for a first look at performers the whole country might soon be cheering for. It was a nifty subculture that seemed like it would go on forever.
Of course, no one knew that rock music was about to turn popular culture on its head.
Times Have Hanged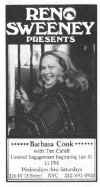 A 1970s ad for a cabaret appearance by Barbara Cook.
In the early 1960s, The Bon Soir presented future stars Kaye Ballard and Barbara Streisand, and many fine performers made their New York debuts at the twin clubs Upstairs at the Downstairs/Downstairs at the Upstairs. However, the rise of rock music in the 1960s signaled a profound change in popular taste. Intimate clubs couldn't afford big name talent, and people were no longer interested in paying to see unknowns. Many famous clubs were forced out of existence.
However, in the wake of the Stonewall riots of 1969, New York's newly awakened gay community wanted entertainment of its own. This opened the way for a new generation of intimate gay night clubs in the 1970s. The first establishment to earn widespread attention was The Tubs, an unlikely performance space inside the Ansonia Baths on Broadway. It was there that Bette Midler became a sensation, staging campy performances. Once the word got out, fully dressed straight couples began to outnumber the gay men in towels.
Dozens of small Manhattan clubs opened in the next few years, and the success of the 1972 film version of Cabaret led some to refer to these new rooms as 'cabarets.' As a rule, these cozy nightspots had a hundred seats or less and an atmosphere of casual elegance, so anyone could feel at home whether they were in tuxedos or jeans -- well, so long as the jeans bore the right 70s designer label.
In the theatre district, Brothers and Sisters showcased former nightclub and Broadway stars, providing the opportunity for Broadway veterans Julie Wilson, Barbara Cook and Sylvia Syms to begin triumphant comebacks. The Copacabana (which could seat up to 250) hosted major attractions like Chita Rivera or Wayland Flowers and Madame. Downtown at Reno Sweeney (named after a character in Cole Porter's Anything Goes) people cheered for songwriter Peter Allen and the modern harmonies of The Manhattan Transfer.
The Duplex, a longtime Greenwich Village comedy club, presented young unknown singers in its cramped second floor cabaret while maintaining a raucous piano bar below. Dawn Hampton, a veteran of black vaudeville and several early Off-Broadway productions went from sharing the bill with Bette Midler at The Tubs to playing most every room in town. She gave heart wrenching performances of ballads balanced with outrageous comic songs, winning the title "The Lady of Cabaret" from the New York Times.
Self-Produced Showcases
By the 1980s, greed entered into the picture, to disastrous effect. Club owners were no longer willing to bear the cost of hiring performers, and switched over to running on a "showcase" basis. This meant that performers had to pay for their own musicians and publicity – things that club owners always handled as a matter of course. Performers got a percentage of the cover charge, while the owners got the rest of the cover plus drink sales. Singers had to lay out thousands of dollars with little hope of recouping their costs.
Soon, only those with deep pockets or generous loved ones could afford to stage a cabaret act. Many an aspiring performer lost a small fortune finding out that money was not enough, and audiences became increasingly leery of paying cover charges to hear tyros on well-financed ego trips.
But real talent still managed to sneak into the picture, and cabaret remained a vital proving ground for new talents. For more . . .