The Chosen
Paper Mill Playhouse
Millburn, NJ - February 2004
Review by John Kenrick
(The images below are thumbnails – click on them to see larger versions. All the photos below are by Gerry Goodstein, used with permission of Paper Mill)

There is an saying in the Far East -- "When the Buddha is in town, go and see him." Theatre lovers who live in the New York-New Jersey region may want to take that advice and catch the incomparable Theodore Bikel (photo left) in the dramatic adaptation of The Chosen playing at Paper Mill through March. With a background that includes Yiddish theatre, creating the role of Captain Von Trapp in The Sound of Music, playing Zoltan Karparthy in the screen version of My Fair Lady, and thousands of performances as Tevya in Fiddler on the Roof, Bikel is a bona fide living legend. At a point in life when many sit back on their laurels, he is proving that his talents are only richer and more irresistible than ever. With a superbly crafted performance, Bikel takes audiences on an emotional journey that warms the heart and moistens the eye. That he does all this in league with a gifted cast in a handsome production makes The Chosen more than a must-see -- its a genuine joy.

Paul Kropfl, John Lloyd Young and Theodore Bikel in The Chosen.
Chaim Potok's coming of age tale began life as a best selling novel. It has been turned into an acclaimed film (starring Rod Steiger & Robbie Benson) and an ill-fated Off Broadway musical. The story involves two teenage boys coming of age in 1940's Brooklyn. Reuven Malter is a devout Orthodox Jew whose father is a teacher and community leader. A sports accident brings Reuven into contact with Danny Saunders, son of a revered Hassidic rabbi. Danny is a brilliant scholar torn between his severe spiritual upbringing and the exciting ideas found in modern teachings. Danny's formidable father raises him in almost total silence, communicating only when they debate the teachings of the Talmud. The boys grow close, bur as World War II comes to an end and Zionist calls for a Jewish state become louder, violent political disagreement between the fathers forces the friends apart. For Reuven and Danny's bonds to survive, each must make the painful transition to adulthood.
Potok teamed with Aaron Posner to create this stage version of The Chosen. They opted to have a narrator on stage for the entire play, providing a running commentary and stepping into the action to play several minor characters. This sort of device tend to put unnecessary distance between audiences and characters, but director David Ellenstein and his team make it work. The action remains crystal clear throughout, making the most of every twist and turn. Michael Anania's set is simple and visually exquisite, contrasting the book-lined study's of two devout but painfully different families. Michael J. Eddy's seamless lighting alternately blends and divides these spaces, and Ellis Tillman's costumes capture the period with simple perfection.

Paul Kropfl (Reuven) and John Lloyd Young (Danny)
Ellenstein has had the good sense to surround Mr. Bikel with a solid cast. Richard Topol is a sympathetic narrator, clearly enjoying bravura opportunities to turn briefly into a team coach, a booming uncle and more. Mitchell Greenberg is touching and believable as Reuven's politically driven father. But its the boys who must carry the bulk of the action, and they do do with extraordinary style and assurance. Paul Kropfl is warm and endearing as Reuven, making it easy for the audience to feel the clash of cultures rocking this character's world. John Lloyd Young gives a powerful performance as Danny, handling linguistic and emotional transitions with polished ease. I will be watching for both of these young men's names in years to come -- if real talent still means anything, they will both be seen on many more stages and screens in years to come. (Kudos to Paper Mill casting director Alison Franck, who somehow makes a habit of introducing remarkable new talent -- no small task!)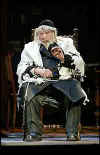 As Reb Saunders, Theodore Bikel dispenses wisdom to his congregation.
Is The Chosen strictly for Jewish audiences? Yours truly was raised as an Irish-Italian Catholic, and I found it richly rewarding. Yes, there is a bit of Hebrew and Yiddish, but everything is explained and easy to follow, so even if you don't know a Tzaddik from a pupik, you will feel right at home. And in the midst of it all, you get to enjoy a great actor at the top of his form. Here's a bit of contemporary theatrical wisdom -- When Theodore Bikel is on stage, go and see him!
The Chosen ended it limited run on March 21, 2004