Cohan 101: Photo Gallery
Compiled by John Kenrick
(Posted 2002)
The photos below are thumbnails – click on them to see full size versions. All of these are items in the author's personal collection.

George M. Cohan as he appeared on the sheet music for George Washington, Jr. (1906)

Cohan's first wife Ethel Levey in male drag for a scene in Little Johnny Jones.

An autographed portrait photo of George M. from the 1910's.

Josie and George Cohan in an 1890's publicity shot.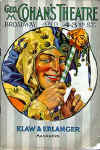 The program cover for The George M. Cohan Theatre, built by Cohan in 1911. In the early 1900's, each Broadway theatre had its own distinctive program logo. Poorly maintained after Cohan sold it, this 1,086 seat house was demolished in 1938.

Cohan relaxes in Hollywood during the filming of The Phantom President.