The Drowsy Chaperone
Marquis Theatre, New York City - ay 2006
Review by John Kenrick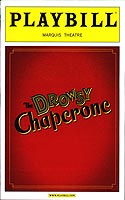 It appears that The Boy Friend lived and triumphed in vain.
In recent years, Broadway has had more than its share of musicals that make fun of musicals -- The Producers, Spamalot, etc. But now, we get a musical that takes vicious aim at the aging homos who love musicals. After all, who else would be fatuous enough to care about musical theatre than a pathetic. lonely middle-aged queer?
If you buy into that bigoted nonsense, you just might like The Drowsy Chaperone, a poorly aimed Broadway musical spoof that seems custom designed for people who don't really like (or know much about) Broadway musicals. Dripping with ignorant condescension, this show is a major disappointment to those who had hoped something would come in at the last minute to breathe life into a dismal Broadway season. Oh well, as sports fans say, there's always next year.
This show opens in the dingy apartment of "Man in Chair," a nameless, fifty-something, effeminate nerd who decides to divert the audience (for no discernable reason) by playing the two LP cast album of a 1927 Broadway musical called The Drowsy Chaperone. Over the next two intermission-less hours, the walls and furniture of the apartment are gradually displaced by fanciful sets, depicting a Long Island mansion where the wealthy but air-headed Mrs. Tottendale (Georgia Engel) hosts a wedding for stage star Janet Van De Graff (Sutton Foster) and handsome playboy Robert Martin (Troy Britton Johnson). A Broadway producer (Lenny Wolpe) must thwart the marriage in order to avoid the wrath of his mobster investors, represented by two gangsters masquerading as pastry chefs (Jason & Garth Kravits). To complicate this lifeless plot, a hard-drinking chaperone (Beth Leavel) spends more time imbibing gin and romancing a randy movie star (Danny Burstein) than she does protecting the bride to be. After the requisite mistaken identities, a black aviatrix flies in to literally provide a clumsy deus ex machina ending.
While Bob Martin and Don McKellar's book certainly captures the illogical foolishness that typified musical comedy plots in the 1920s, it lacks a key element -- the great songs that made such plots endurable. Lisa Lambert and Greg Morrison have concocted a score with some harmless tunes, but there isn't a single memorable number in the lot. When The Boy Friend made fun of 1920s musicals, it did so with a high quality musical comedy score. And The Drowsy Chaperone? It's biggest musical moment is a ditty entitled "Toledo Surprise" -- busy and loud, but not the sort of song that lingers in the mind.
What really offends here is the depiction of Man in Chair, played with great energy by Chaperone's co-author Martin. As the action progresses, he turns into a merciless caricature of a musical theatre queen, one who uses musicals as a last escape from a "real world" that he loathes and fears. Would a sane person physically attack an answering machine, yanking it out of the wall because the phone rang during a song? In the end, we learn that this character's obsession with Drowsy Chaperone centers on an inaudible line of dialogue in the final scene. So he's stupid as well as demented? This is an ugly, insulting portrayal that panders to homophobic stereotypes. In fact, the only thing scarier that seeing this show reach Broadway is hearing the way much of the audience enthusiastically embraces it -- proof positive that the dumbing-down of America is reaching new lows.
(Just for the record, there were no cast recordings until the 1930s, and the first ever multi-LP recording of a full musical was The Most Happy Fella in 1956. Minor points, I know, but isn't it pointless to make fun of something that doesn't exist? Those who have suggested that The Drowsy Chaperone is like a Carol Burnett Show skit that runs on too long are a bit off target -- the best of those old Burnett parodies were funny because they spoofed real things.)
The rest of the cast features some of the best talents in musical theatre today. Ms. Foster leads the way with a brave, all-out attempt to make something out of nothing. The rest of the ensemble is in the same position, and I applaud them -- but special cheers are reserved for Ed Hibbert, who deserves an award for "Class Under Fire." It has been years since any actor has had to endure so much tsurris (or spit) to so little purpose.
David Gallo's sets are a triumph, as are the often stunning costumes by Gregg Barnes. The lighting by Ken Billington and Brian Monahan is inspired, as are Larry Blank's polished orchestrations. But ultimately, The Drowsy Chaperone is one of the emptiest musical gift boxes ever to reach Broadway, as bland and unimaginative as its rather dreadful logo. Not terrible, mind you -- just one hell of a let down, even for a middle aged musical theatre queen like yours truly. However, this overlong, third-rate variety show sketch just might find an audience. As the old Russian proverb suggests, in the garden without birds, a croaking frog can become the king of song.
Maybe I'll just put the original cast recording of The Boy Friend on my stereo and tell friends forgotten stories about Julie Andrews . . .