Bea Arthur & Elaine Stritch
February 2002
Reviewed by John Kenrick
It is an ancient bit of Eastern wisdom that when the Buddha is in town, you should drop in for a visit. Well, get out your calling (and charge) cards kids, because two of the musical stage's most beloved leading ladies have arrived simultaneously in Broadway in solo shows that no theater lover can consider missing. Between them, they have more than a century's worth of show business to recall. Both are ballsy as can be, and both are only planning on painfully brief limited runs.
But Bea Arthur and Elaine Stritch's current shows are as distinct and irresistible as they are. Friends have asked me which is better, and I say its an impossible call – like comparing apples and chocolate chip cookies. I don't know about you, but I happen to love both.
Bea Arthur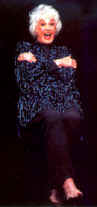 How can you resist a chance to hang out with Dorothy Zbornack? Or for those of us of a slightly finer vintage, with the anything but traquilizin' Maude? Or that bosom buddy, Vera Charles?
Between the plush carpeting on stage, the oak paneled intimacy of the Booth Theater and Mark Berman's evocative lighting, you almost feel that you're in Bea Arthur's living room. She reinforces the sense of coziness by performing barefooted. As she explains, she was forced to go shoeless after an ankle injury early in the tour, and found it so comfortable that she went right on doing the show that way.
Although veteran directors Mark Waldrop and Richard Maltby, Jr. helped construct this show, it is very much Ms. Arthur's. Snuggled into a plush armchair, perched beside a grand piano or holding forth from center stage, Arthur brings her rich memories to vivid life. At 90 intermission-less minutes, this is perhaps the ultimate cabaret act – lots of heart and some golden theatrical moments.
Bea sticks to her professional experiences, making almost no mention of her private life – except for one oblique reference to her divorce. One might have hoped for something a tad more personal, but she offers so much fun along the way that its hard to complain.
Arthur covers her television years on Maude and Golden Girls, even treating us to a sonorous "Shady Pines, Ma!" But the bulk of the show is dedicated to her long theatrical career, recalling many of the now legendary stars she has worked with. One of her most memorable moments comes when she pays tribute to Lotte Lenya with a haunting rendition of "Pirtate Jenny." And of course, she sings part of "Bosom Buddies," sensibly insisting that the other half of the song belongs to Mame co-star Angela Lansbury.
Now in her late 70's, Ms. Arthur knows exactly how far her voice will go. She refuses to sing the taxing showstopper that won her raves in the 50's Shoestring Revue – reasoning that, "Barbara Cook no longer sings "Glitter and Be Gay," so I no longer sing "Garbage." She offers plenty of surprises as compensation, including a ravishing rendition of "Fifty Percent," the Ballroom ballad co-written by Marilyn and Alan Bergman and composer Billy Goldenberg – the pianist who provides Ms. Arthur with superb visual and musical accompaniment throughout the show.
After her encore (something involving a man in the moon?), Arthur finishes the evening with a swift, "Thank you for coming, and I will not sing "I'm Still Here."" This affectionate reference to the other lady in town is the perfect ending to a classy set.
And then there's Stritch.
---
Elaine Stritch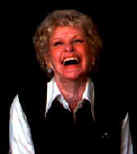 If Bea Arthur leaves you feeling like you've spent an afternoon in someone's living room. Elaine Stritch plants you on a comfy barstool and sticks a deliciously dry martini in your hand. And she'll do more than share professional memories – she'll take you into parts of her soul.
This is a hell of a trick to pull off in the 1,300 seat Neil Simon Theater with a nine piece band in the pit. Stritch performs on a bare stage, making occasional use of a plain black bar stool. At 76, she looks lithe as ever in a plain white shirt, black tights and heels. Where she finds the energy for this two and a half hour marathon is beyond me! But find it she does, knocking out showstoppers with maddening ease. This is not just an enlarged cabaret act – this is pure musical theater, as electrifying as Broadway ever gets.
Yes, she sings all the songs you were hoping to hear, and a few more besides – more than 20 numbers in all. You still can't beat her rendition of "Why Do the Wrong People Travel?," and her ownership of "The Ladies Who Lunch" remains unshakeable. Oh yeah, she most decidedly does sing "I'm Still Here," although she insists no one under 80 has any business singing it. She has nothing to worry about, making the song register a full 8.0 on the theatrical Richter scale.
She brings Noel Coward and Ethel Merman back to life with cunning impersonations, and has dish on such illustrious past beaux as Gig Young and Ben Gazzara. Gloria Swanson and Tallulah put in appearances, as do a host of others. And I have never seen anyone capture the essence of Hal Prince as she does. No matter how much you think you know about this lady or the theater, you're bound to learn something as Stritch recalls the lasting passions of her life – theater, men, the Catholic Church, and booze.
Ah yes, the booze. She recalls her first drink (given to her by her father when she was just 13) with the tender love song "This is All Very New to Me" – an appropriate welcome for the friend that would be there for all her stage appearances over the next six decades. She makes no apologies for her years of dependency, which only ended a few years ago when her health gave her no choice. Stritch tells us that she used to take a drink before performances because she did not believe that she could face being on stage alone – that it wouldn't be enough. For those of us lucky enough to see her during this run, Stritch alone is more than enough. It is a gift we will treasure for the rest of our lives.
John Lahr and director George C. Wolfe helped craft this evening, preventing anything from getting between Stritch and her audience. Jules Fisher and Peggy Eisenhauer offer a clinic in perfect theatrical lighting, and conductor Rob Bowman makes Jonathan Tunick's orchestrations sound as if there were two dozen in the band.
So there you have it – two ladies are in town, for no more than a few weeks. Stop in to see both of them and rejoice.