NEWSical The Musical
Kirk Theatre, NYC - July 2011
Reviewed by John Kenrick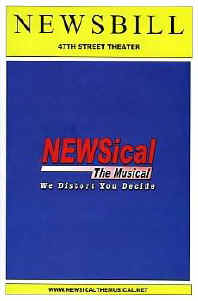 Want to drop a few extra pounds? Well, instead of doing reps at some nasty gym, do yourself a favor and go laugh your butt off at NEWSical the Musical! No kidding, by the end of this brilliant, wildly entertaining laugh riot, I felt at least five pounds lighter and ten years younger. Laughing this hard does more than just boost your spirits -- it rejuvenates the soul. With Broadway currently paying homage to the melodically derivative, toilet-mouthed humor of The Book of Mormon, it is all the more wondrous to encounter NEWSical's non-stop tsunami of fresh melody and amazingly intelligent belly laughs.
Rick Crom's topical songs and sketches have been delighting audiences for years in a long list of revues and cabaret acts, so a revue spoofing the latest news stories and social trends is the perfect showcase for his comic genius. NEWSical has been evolving since 2004, adding updated material along the way and proving conclusively that brains, talent and taste can still provide matchless entertainment.
A revolving cast of four performs an ever-changing repertory of Crom's latest material, so you can never be sure from one week to the next exactly what you'll see. What you can always count on is a truckload of belly laughs -- heck, I haven't laughed so hard in years! At a recent performance, the targets included Queen Elizabeth urging Prince William to keep his Kate "royally" satisfied, an aging Harry Potter complaining that his "wand" doesn't work anymore, and Liza Minnelli promoting same sex marriage because she's tired of tying the knot with gay men. Throw in outrageous send ups of "informercials," "sexting," and the possible upside of getting felt up by airport security, and the result is 90 minutes of pure comic gold. Yes, some of the language is explicit, but the effect is pure fun, and the laughs come so fast and furiously that its doubtful any but the most prudish could find the time to take any offence.
Every member of the cast delivers a stellar cascade of talent. Handsome, hunky comic Michael West portrays President Obama and the venerable Larry King with hilarious flair, pert Amy Griffin is a scene-stealer as Lady Gaga and Sarah Palin, versatile charmer John Walton West imitates Jimmy Stewart and Morgan Freeman with surprising ease, and gifted Forbidden Broadway veteran Christine Pedi delivers powerhouse vocals and an amazing array of impersonations, including Liza, Joan Rivers and even a spot-on Angela Lansbury. Oh, how sweet it is to see such talented people cut loose with such brilliant material.
If you love musicals or just love to laugh, get over to Manhattan's Theatre Row and treat yourself to NEWSical The Musical. You just may find yourself believing in the musical comedy again.