Nine
Eugene O'Neill Theatre, NYC - April 2002
Review by John Kenrick
(The images below are thumbnails – click on them to see larger versions.)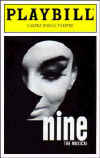 When a director sticks a dazzling cast in a few thousand gallons of water, you know something is seriously wrong. Roundabout's revival of Nine is one of the most frustrating events of this theatre season. Several stellar performances and some unforgettable moments are mired in a production that seems only half-directed. The stars and their moments make it impossible for me to suggest that you miss this show – but the overall muddle make it equally impossible for me to urge you to catch it.
Based on Frederico Fellini's film 8 1/2, as well as other aspects of that idiosyncratic director's life and career, Nine offers one of the musical theatre's most intriguing challenges – to somehow make a middle aged filmmaker's nervous breakdown entertaining. In 1982, Tommy Tune handled this tricky premise with an innovative blend of giddy spectacle and flawless casting that remains one of the theatrical highlights of its time. His showmanship was the perfect antidote to the inherent flaws in the often brilliant material. Maury Yeston's multi-style score is peppered with solo showpieces, demanding performers with real star power to put them over. Arthur Kopit's libretto, with its Fellini-esque tendency to communicate on several frequencies at once, requires a physical presentation that keeps the central issues in focus.
Those issues are best defined by the central character, film director Guido Contini, who freely proclaims "my body's clearing 40 while my mind is nearing 10." This once acclaimed artist finds his well of inspiration has run dry. With three flop films behind him, he improvises his way through a new screen project in Venice while contending with the haunting memories of the many women he has used and abused over the years. When his movie bio of Casanova turns into a thinly-veiled autobiography, his fragile private life collapses. He finds himself holding a gun to his head, wondering if this suicide is real or just a twist in his screenplay.
As art an reality blur, a strong hand is needed to keep things coherent, but director David Leveaux has no clue how to handle such a challenge. In fact, he seems intent on making things all the murkier, throwing in more unexplained images and pointless special effects than you would expect from a WWF wrestling event. Why does Roundabout insist on putting British directors with no musical credentials in charge of major musical revivals? This production got lousy reviews in London – what an insult to throw this at Broadway, charging over $100 a ticket. I don't begrudge any Englishmen the chance to learn how to do musicals, but I resent them doing so on Broadway rather than with a repertory company in Uckfield.
His production team gives us a sterile, often ugly production – Vicki Mortimer's costumes are hideous instead of stylish, and Scott Pask's set is frigid, when it isn't simply sopping wet. As the action switches to the Grand Canal, plumbing pours forth until the stage is actually flooded with a foot of water, which proves a distraction as the cast is forced to wade through it, sending waves cascading into a trough that covers the orchestra pit. (Lucky musicians – at least they don't have to look at this thing every night!) With all the gurgling drains, who could hope to hack their way through to the plot? I am surprised anyone took credit for the almost non-existent choreography – with the exception of a surprisingly unimaginative tango for two, Jonathan Buterell's musical staging amounts to little more than traffic direction. The only visual warmth comes from Brian MacDevitt's superb lighting, and the sometimes amazing cast.
Leveaux alternates brilliant casting decisions with several inexplicable choices. When things go right, we get Chita Rivera as Guido's French producer Liliane La Fluer, setting off a firestorm with her rendition of "Folies Bergere," reminding us what its like when a showstopper actually stops a show. We also get the almost unbearably sexy Jane Krakowski as Guido's mistress Carla, whose unabashedly horny "Call From the Vatican" is nothing less than a coup de theatre. What she does with a sheet will have people talking for years to come.
Laura Benanti is perfection as Claudia, the actress Guido idealizes as a goddess – her "Unusual Way" is rich and moving, so completely unlike the rest of this production that it almost seems out of place. The same can be said of Mary Beth Peil as Guido's mother – her rendition of the title song glows, and her ghostly confrontation with her suicidal son in the final scene had the perfect note of comic irony. It must be noted that these same ladies are all too often thwarted by their director's ineptitude. Rivera is often lost in the physical shuffle as the ensemble keeps milling aimlessly about, and Krakowski is burdened with a clumsy Italian accent that turns her ballad "Simple" into "Seem-pal" – instead of inspiring sympathy, it draws uneasy titters. Benanti's accent is far easier on the ear, but one cannot help wondering why Italian characters speaking to each other in Italian are depicted using accents.
It is hard to fault the selection of Antonio Banderas as Guido. As sleek and sexy in person as he is on screen, he has a fine singing voice and is refreshingly comfortable on stage. But it has been some years since this movie star last worked on stage in his native Spain, and his comfort never translates into the command this lengthy role calls for. He's a good Guido – but Broadway audiences have every right to expect something more than just "good." That said, I have no doubt that Banderas's fans will be thrilled with his every move. Because of the waterlogged shenanigans, he spends much of Act Two barefoot, with his trousers rolled up above the knees – which will probably launch a debate among theatre buffs as to who has the hottest gams, Antonio or Chita?
When Leveaux's casting goes wrong, it does so with shattering abandon. Guido's long suffering wife Luisa is supposed to be a smoldering emotional volcano that finally boils over in the torturous "Be On Your Own." The gifted Mary Stuart Masterson is painfully miscast, never getting beneath the surface level to tap the simmering emotions within this character. As Saraghina, Myra Lucretia Taylor is neither sexy nor jubilant – she's just loud and obese, making young Guido's attraction to her inexplicable. Saundra Santiago makes the wisecracking assistant producer Necrophorus seem nothing more than nasty and witless, and William Ulrich as Little Guido gives the kind of personality-minus performance all too common among stage kids today.
One of the biggest downfalls of this production is Jon Weston's mono-directional sound design. No matter where characters may be on or off the stage, their voices all sound as if they are coming from the same location – making it impossible at time to figure out who is talking and where the hell they are. This un-theatrical approach is not just annoying – it is destructive.
After more than 20 years, Broadway audiences deserved a far better Nine. However, those who don't catch it will wonder what the rest of us will be arguing about in years to come. This production does not satisfy the refined theatergoer's palate – but it is ultimately intriguing. If nothing else, I'm still trying to figure out how Krakowski works that white sheet, or how the costume assistants dry out all those fancy shoes eight times a week.