Coward 101
Noel Coward: Biography - Part III
by John Kenrick
(The photos on this page are all thumbnail images – click on them to see larger versions.)
Dark Years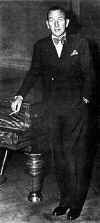 The years following the war were difficult for Coward. The army had requisitioned his country home Goldenhurst during the war and left it a shambles. So Coward purchased and renovated a sizeable beachfront cottage at the base of the White Cliffs of Dover where he continued to turn out plays and musicals. Other than the London revue Sigh No More (1945), most of these works met with commercial failure. Coward knew instinctively that his writing was better than ever, but it seemed that the public's tastes had changed. The same critics who once praised Coward's work now dismissed it as frivolous. In an age newly obsessed with "realism," Coward's facile wit was dismissed as false and out of date. Some suggested he should change his style. But how could Noel Coward be anyone other than Noel Coward?
When British postwar taxes became crippling, Coward was one of the first to make the difficult choice to become an expatriate. He relocated briefly to Bermuda before settling in Jamaica. Vilified in the British press as a traitor, his well-deserved knighthood was delayed for decades. He had served his country tirelessly during World War II, only to see that country calumniate his name afterwards -- a strange way for Britain to treat the quintessential Englishman of the 20th Century. Many British celebrities soon followed Noel's lead, but none were subjected to the same journalistic and political abuse.
New Beginnings
It was during these difficult years that Coward fell in love with South African actor Graham Payn. As a boy, Payn had appeared in one of Coward's pre-war West End revues. By the time they met again in 1945, Payn was a handsome young man. Mutual attraction did the rest. A smitten Coward hoped to make Payn a star, and featured him in several important London productions. Although Payn had talent and genuine affection for Coward, he lacked Noel's drive and star quality. As to their private life, Payn later admitted that they both had "brief encounters" with others but remained devoted companions.
Coward's 1955 night club engagement in Las Vegas proved a surprise sensation, drawing stellar audiences and resulting in a hit live recording. This led to a series of American network television appearances on CBS, including a memorable two-person special with Mary Martin called Together With Music (1955). Coward wrote and directed the show, setting a new standard for small screen entertainment. He next starred with Claudette Colbert, Lauren Bacall and Mildred Natwick in a televised adaptation of Blithe Spirit (1956). With the profits from these ventures, Coward expanded his home in Jamaica -- adding a private hideaway that he dubbed Firefly Hill -- and purchased a handsome chalet in tax-friendly Switzerland. From this point on, Les Avant served as his primary home, but he still spent most of the winter at Firefly Hill in Jamaica. He also made annual visits to Britain and the USA, supervising new productions and catching the latest shows and films.

Charles B. Cochran, arguably England's greatest stage producer in the early 20th Century. He presented a number of Coward's revues, musicals and plays.
Coward channeled his longtime contempt for artistic pretension into Nude With Violin (1956), a comedy that starred John Gielgud in London and Coward himself in New York one year later. Look After Lulu (1958) and Waiting in the Wings (1959) continued a string of well written comedies that delighted audiences but met with maddening critical disdain. Undaunted, Coward carried on. Commuting across and between the continents, he was one of the brightest jewels in the international "jet set." While Coward kept his homosexuality a scrupulously private matter, he couldn't resist dropping the occasional public hint. During a 1956 network television interview, journalist Edward R. Murrow asked if Coward did anything to relax, to which Noel responded, "Certainly, but I have no intention of discussing it before several million people."
Coward Critiques
Coward caused a furor in 1961 with a series of articles in The London Times criticizing the new "kitchen sink" school of playwrights, and questioning the virtues of method acting. Although his earliest successes involved innovation and titillation, he insisted that something more was needed to make a lasting contribution to modern drama. Coward insisted that the first purpose of any play was to entertain, urging new dramatists to –
"Consider the public . . . coax it, charm it, interest it, shock it now and then if you must, make it laugh, make it cry, make it think, but above all dear pioneers, in spite of indiscriminate and largely ignorant critical acclaim, in spite of awards and prizes and other dubious accolades, never, never, never bore the living hell out of it."
Some younger playwrights protested that this "old man" had no business passing judgment on their work, but public reaction was overwhelmingly on Coward's side. Dismissing the attacks, he no doubt enjoyed jabbing a few bloated egos.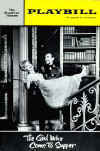 Jose Ferrer as a European prince carrying off an American chorus girl played by Florence Henderson in Coward's The Girl Who Came to Supper. Coward's last Broadway score, it is also one of his most underrated.
Coward's final musicals had much to offer, but did not catch on with the public. Although Sail Away (1960) gave Elaine Stritch the finest stage vehicle of her career, critics dismissed this amusing musical comedy about romance aboard a cruise ship as a relic of another time. The Girl Who Came to Supper (1963) was a witty adaptation of the Terrence Rattigan's comedy The Sleeping Prince, but stellar performances by Jose Ferrer, Florence Henderson and Tessie O'Shea were not enough to prevent critics from harping on the show's vague similarity to My Fair Lady.
Coward had better results with several non-theatrical ventures. His delightful comic novel Pomp and Circumstance offered a giddy look at life in a tropical British colony. He also found new popularity on the big screen, making scene-stealing appearances in such films as Our Man In Havana and Around the World in Eighty Days. When a team of Americans adapted Coward's Blithe Spirit into the musical High Spirits (1964), he was so pleased with the results that he directed it – with an unaccredited assist from Gower Champion. Thanks in large part to hilarious performances by Tammy Grimes and old friend Beatrice Lillie, (who dominated the show as a singing Madame Acarti), High Spirits was a success. It marked Coward's last direct involvement in a Broadway production. A London version produced the following year did not fare nearly as well.
Renaissance
A 1963 revival of Private Lives took London by storm, sparking renewed interest in Coward's plays on both sides of the Atlantic. Revivals and TV productions of his works followed, and Coward was so encouraged that he wrote and starred in the London production of three new one-acts called Suite In Three Keys (1966). This included Song at Twilight, which involved an aging author fearing that his homosexuality will be exposed. This play was not autbiographical, but rather a swipe at such closeted contemporaries as Somerset Maugham. This was daring stuff in the mid-1960s, and it was well received. But Noel was suddenly relying on sympathetic co-stars to cover a series of on stage memory lapses. When doctors explained that years of self-indulgent eating, drinking and chain-smoking were taking their toll on his faculties, Coward reluctantly retired from the stage.
Coward remained active. When his old friend Richard Rodgers created a musical adaptation of Shaw's Androcles and the Lion (1967) for American television, he cast Coward as Caesar. Noel had no difficulty making the most of some less than brilliant material. He also took on several small but unmemorable film roles, appearing as the male Witch of Capri in Boom (1967) and playing a criminal mastermind in The Italian Job (1968).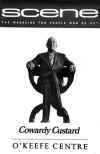 The London revue Cowardy Custard was successful on both sides of the Atlantic -- this is a program for a Canadian production.
With his health in a gradual decline, Coward cut back on all public activities. Even so, he relished the ongoing re-discovery of his works, a trend his friends described as "Dad's Renaissance." His 70th Birthday in 1969 became a national celebration in Great Britain, and the following year he was finally granted a knighthood. Broadway awarded him a special Tony for Lifetime Achievement. New revues using his classic songs and sketches enjoyed successful runs in London (Cowardly Custard) and New York (Oh Coward!), and he had the satisfaction of seeing critics and the public once more acclaim him as a playwright and composer. Coward insisted that he wasn't surprised. Still possessing the supreme confidence that had seen him through his early challenges, he always knew the world would come to its senses.
As the Gay Liberation movement grew in the wake of New York's 1969 Stonewall riot, Coward refused to end his lifelong public silence regarding his sexual preferences. Part of it was no doubt rooted in his Edwardian upbringing – there were things a gentleman of his generation (gay or otherwise) simply did not discuss in public. When pressed by younger friends to "come out," Coward refused, saying, "There are still a few old ladies in Worthing who don't know."
In January of 1973, Noel visited New York for a gala performance of the off-Broadway revue Oh Coward! He arrived with longtime friend Marlene Dietrich on his arm. Bent with age and illness, he remained the personification of elegance. Friends sensed that he was declining, but no one realized that his would be his last public appearance. In the early morning hours of Monday, March 26, 1973, Noel Coward suffered a stroke at his home in Jamaica. A servant found him on his bathroom floor, and was able to carry him to his bed. Insisting that there was no need to wake his friends, Noel slipped away just before dawn.
His simple gravesite lies on Firefly Hill in Jamaica. After years of unpardonable delay, Westminster Abbey eventually installed a memorial to him in its hallowed Poet's Corner. Graham Payn supervised Coward's affairs with loving care until his own death in 2005. Along with Coward's plays, songs, books and films, a never ending stream of biographies, articles and documentaries keep alive his image as the personification of wit and elegance – not a bad legacy for a boy from Teddington.