Victor/Victoria
Paper Mill Playhouse, NJ - November 2000
Review by John Kenrick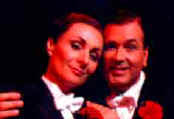 Judy McLane and Lee Roy Reems
What a revelation! Remember Victor/Victoria, the magical film that became a not-so-magical Broadway show? Well, New Jersey's Paper Mill Playhouse has once again outclassed a Broadway original, proving that this much maligned show is first-rate musical comedy fun.
Some things are much the same as on Broadway. Robin Wagner's lavish sets and Willa Kim's eye-popping costumes are still here, albeit in their slightly simplified touring versions. The Blake Edwards script has been tweaked to clarify the action, and they've dropped the tedious "Paris Makes Me Horny" while adding Frank Wildhorn's "Who Can Tell," a show-stopping ballad for Victoria. Otherwise, we get the Henry Mancini-Leslie Bricusse jewels that delighted us on screen but previously fell a trifle flat on stage.
The secret to making the most of a big old-fashioned musical like this one is to let the audience fall in love with the main characters. In an age when so few people in the theatre seem to understand this anymore, the Paper Mill team shows why theirs is one of the most popular regional theatres in the world. Mark S. Hoebee's clear, stylish direction brings out far more of the comic potential in the Blake Edwards script than Edwards himself did on Broadway. The leading characters became sympathetic, charming and believable – which they never were on Broadway. If this is any indication of what Mr. Hoebee can do, then Paper Mill has scored a major coup by appointing him their new Associate Artistic Director.
It never hurts to have a dream cast. Lee Roy Reems walks off with the audience's heart as Toddy, the gay entertainer who befriends the penniless Victoria and conceives of her becoming "Victor," the world's greatest female impersonator. This master comedian made every line count, and his final appearance in high drag made a mostly straight, suburban audience blow the place apart with cheers! I couldn't help thinking how this bravura performance would have nailed a Tony during any of the last dozen seasons. Robert Cuccioli (Jekyll & Hyde) has a blast as King, the Chicago gangster who cannot believe "Victor" is a man. And yes, he is still one of the most drop-dead gorgeous men on any stage! With little to sing, Cuccioli gets to remind us what an ingratiating comic actor he can be.
You've probably never heard of Judy McLane, but I promise you will in the future – she is sensational in the title role! Her New York appearances have yet to win much attention, but she has been wowing Paper Mill audiences in recent seasons as Evita, Aldonza and more. Her voice soars gloriously through every bit of this often challenging score, and she deftly handles both the comic and romantic sides of Victoria . . . and Victor. Hey Broadway – wake up! Judy McLane is the new socko star you keep claiming you've been looking for!
The supporting cast is excellent, with special kudos to luscious Tara O'Brien as the blonde bombshell Norma, and the strikingly handsome Jody Ashworth as Squash, the bodyguard with a secret. Arte Phillips' fine choreography is miles ahead of the Broadway version, making "Le Jazz Hot" and other numbers genuinely exciting. Savvy Paper Mill audiences do not make a habit of jumping to their feet and screaming through the curtain calls, but that is exactly what they did on the night I saw this production.
If you live anywhere near New Jersey and have not been to Paper Mill , this is the perfect excuse to check out this wonderful place. And theater lovers in Manhattan who were disappointed by Victor, Victoria on Broadway should take note – this knockout production is only a short commuter train ride away. So get yourself to Millburn for a little musical comedy vacation. This time, "Le Jazz" really is hot!