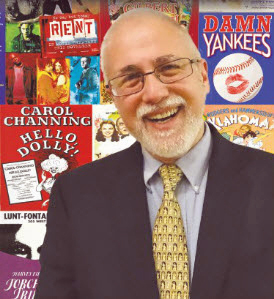 Happy New Year! Duiring the first weeks of January 2017, Musicals101.com will be undergoing some updates, additions and revisions. We apologize if any parts of the site become temporarily inaccessible. We will have everything ironed out as quickly as possible.
You can check out a full
schedule of John's upcoming public talks
, and see a selection of video clips of John in action on Musicals101's
Youtube page
. If you are interested in booking John for your group, you may want to look over his extensive list of
talk topics
.

John Kenrick's book Musical Theatre: A History is available in paperback and e-book format from all major retailers. A new 10th Anniversary Edition is in the works and will be published in 2017.
His Guide to Amateur Theatricals is available in e-book format through all major web retailers.