History of the Musical Stage
1890s: Part II
by John Kenrick
(Copyright 1996; revised 2014)
(The images below are thumbnails – click on them to see larger versions.)
Weber & Fields: Burlesque Musicals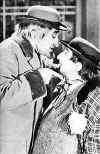 Lew Fields ("Meyer") and a heavily padded Joe Weber ("Mike") in one of their confrontational routines.
The most popular and artistically significant burlesque musicals of the 1890s were created by former vaudeville comedians Joe Weber and Lew Fields. Weber (assisted by heavy padding) played the short, rotund "Mike," while Fields was the taller and leaner "Meyer," who constantly schemed to swindle Mike out of his money. With these cartoonish German immigrant personas, Weber and Fields became vaudeville's definitive "Dutch" act (a corruption of "Deutsch" - i.e. "German"). The duo met as boys on Manhattan's impoverished Lower East Side. By the late 1890s, they were one of the top comedy acts in vaudeville.
There was nothing subtle about Weber & Fields' comedy. They used false chin beards, pork pie hats, and exaggerated German accents. Their dialogue relied on mispronunciations and misunderstandings, and fans reveled in the team's knockabout physical battles. Weber once said that "all the public wanted to see was Fields knock the hell out of me." The act usually began with Fields pushing the smaller Weber onstage, with Weber indignantly squealing, "Don't pooosh me, Meyer, don't pooosh me!" Both characters then bantered in fractured English --
WEBER: I am delightfulness to meet you!
FIELDS: Der disgust is all mine!
In the course of their dialogue, one would ultimately offend the other, and verbal insults swiftly turned into an all-out battle with punches, kicks, pratfalls, etc.
SAMPLE SCENE: Weber & Fields Vaudeville Sketch
A comedy sketch developed by Weber & Fields in the 1880s
Beginning in 1896, Weber and Fields parlayed their two-man act into a series of more than a dozen full cast Broadway musicals which the duo jointly produced and co-starred in. In their earliest productions the first half of the evening was a musical burlesque of a recent Broadway hit (example: Cyrano de Bergerac became Cyranose de Bric-a-Brac), and the intermission was followed by a vaudeville-style collection of individual comedy and song-and-dance acts.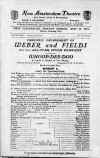 The program for Weber and Fields' Whoop-Dee-Doo (1904). Although they would reunite occasionally, this run marked the end of their active partnership.
The Weber & Fields burlesques went so far as to spoof specific sets and costumes. These extended parodies were burlesques in the classic sense, with clean humor designed to attract a family audience. The humor could aim in almost any direction. For example, when skewering a drama set in Scotland, Weber & Fields included a song entitled "Alexander's Bagpipe Band," sending-up Irving Berlin's ragtime hit.
Being spoofed by Weber and Fields proved to be such great publicity that producers campaigned for their shows to be targeted. The variety segments of these catch-all evenings did much to refine and define the revue as a Broadway-level entertainment, a format that would soon reach its zenith in the productions of Ziegfeld & others.

This is a photo of Weber and Fields with leading members of their stellar troupe, including DeWolf Hopper, Lillian Russell and diminutive Fay Templeton.
While Weber and Fields were the main stars of their joint productions, they had the good sense to surround themselves with several of the musical theater's biggest talents, forming the most stellar company Broadway had ever seen. Fay Templeton, Anna Held, DeWolf Hopper and vaudeville favorite Marie Dressler were regulars, and pioneer director-choreographer Julian Mitchell advanced the craft of musical staging.
The best-remembered star of this troupe was Lillian Russell, a singing actress who became the embodiment of 1890s glamour. Russell was renowned for exceptional good looks, a piping high C, a curvaceous (if increasingly ample) figure, and a winning way with comic dialogue. She debuted at Tony Pastor's vaudeville theatre in 1883 and solidified her reputation in a series of Broadway operettas. Russell's talent, beauty and infamous relationship with financier "Diamond" Jim Brady made her a national celebrity. She eventually commanded an astronomical weekly salary of $1,250, a record figure for Broadway performers of the 1890s. After adding Russell to their team, Weber and Fields switched to presenting full-length musical comedies with preposterous titles like Whirl-i-gig (1899 - 264) and Fiddle-dee-dee (1899 - 262). These lighthearted hits followed their New York runs with lucrative national tours.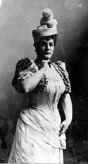 Beloved soprano Lillian Russell enjoyed prolonged stardom in vaudeville as well as Broadway.
Russell's most successful song had a back story that became the stuff of theatrical legend. During pre-production for Twirly Whirly (1902 - 244), songwriter John Stromberg, who had written several hit numbers for Russell, promised her "the prettiest song you ever sang," but delayed delivery, insisting it was not ready. Days before the first rehearsal, Stromberg (who suffered from severere rheumatism) took a fatal dose of insecticide. The completed manuscript for the sentimental ballad "Come Down Ma Evenin' Star" was found in his coat pocket.
Although claims that Russell burst into tears while singing the song on Twirly Whirly's opening night were probably a press agent's fantasy, the public bought into them. "Come Down Ma Evenin' Star" became Russell's trademark number for the rest of her career.

Faye Templeton, Lew Fields, Joe Weber and Lillian Russell in their final joint stage vehicle, Hokey Pokey (1912).
Although Weber & Fields ended their Broadway partnership in 1904, they reunited eight years later for Hokey Pokey (1912 - 108) with a rather hefty Russell making her final Broadway appearance to join in the shenanigans and reprise "Come Down Ma Evenin' Star." She continued to sing in vaudeville until failing health forced her retirement in 1919. Both Weber and Fields remained active in show business through the 1930s, reviving their old act for special stage events and a few film appearances.
Weber & Fields had many imitators in vaudeville. Their act and their Broadway burlesque-variety formula was blatantly copied by Gus and Max Rogers, who played characters painfully similar to "Mike & Meyer" in a series of eight Broadway musicals between 1899 and 1908. With pleasant but unmemorable scores, the Rogers Brothers musicals profitably showcased such outstanding musical stage talents as Pat Rooney, Della Fox and vaudeville great Nora Bayes. While audiences enjoyed the silliness, the Rogers' burlesques were generally considered to be no match for Weber & Fields.
Lew Fields' greatest and most direct legacy was his children, librettists Herb and Joseph Fields, and lyricist/librettist Dorothy, all of whom would contribute to some of the most important stage and screen musicals of the 20th Century. But Lew's partnership with Joe Weber was of genuine historic importance. As their biographers put it:
"How do we judge the legacy of Weber and Fields and their Music Hall? It was on the Music Hall stage that the basic forms and techniques of the revue and the musical were assembled and tried out . . .It was also on the music hall stage that Julian Mitchell defined the creative responsibilities of the stage director, becoming the progenitor of American musical directors, from Ned Wayburn to Bob Fosse. . . Socially and aesthetically, Weber & Fields Music Hall was the evolutionary link between the popular stage entertainments of the nineteenth and twentieth centuries."
- Armond Fields and L. Marc Fields, From the Bowery to Broadway: Lew Fields and the Roots of American Popular Theater (New York, Oxford University Press, 1993), p. 203.
While homegrown musical comedies entertained New York, a British team initiated a series of shows that caught the imagination of the entire English speaking world.