History of The Musical Stage
1920s Part III: Black Musicals
by John Kenrick
(Copyright 1996 & 2003)
(The images below are thumbnails – click on them to see larger versions.)

The sheet music for "Love Will Find a Way," one of the hit songs in Shuffle Along.
One of the most rarely discussed hit musicals of the 1920s was one of the longest running, and one of the most culturally significant. Shuffle Along (1921 - 504 performances) was the first major production in more than a decade to be produced, written and performed entirely by African Americans. After a brief tour, it opened at the 63rd Street Music Hall, well North of the main theatre district. There was a slip of a plot involving a mayoral race in "Jim Town," but the production was essentially a revue showcasing songs by Noble Sissle and Eubie Blake. With the popular "Love Will Find a Way" and "I'm Just Wild About Harry," Shuffle Along became such a hit that the police converted 63rd Street into a one-way thoroughfare to ease the curtain time traffic jams. The show gave several stellar talents their first major breaks, including Josephine Baker, Adelaide Hall and Paul Robeson.
By today's standards, much of Shuffle Along would seem offensive. In a bow to minstrel tradition, the African American actors darkened their skin with blackface make-up, and most of the comedy relied on demeaning racial stereotypes. Each of the leading male characters was out to swindle the others, and the show ended with a song explaining that the lighter the skin tone, the more desirable a Negro woman was –
A high brown gal
Will make you break out of jail,
A choc'late brown
Will make a tadpole smack a whale,
But a pretty seal-skin brown,
I mean one long and tall,
Would make the silent sphinx
Out in the desert bawl,
If you've never been vamped
By a brown skin,
You've never been vamped at all.

Despite such content, many African Americans embraced the show. In A Beautiful Pageant: African American Theatre, Drama and Performance in the Harlem Renaissance, 1910-1927 (NY: Palgrave MacMillan, 2002, pp. 263-267), theatre historian David Krasner explains that "African American audiences realized that a certain degree of bowing and scraping was necessary for the success of the performer, and so they accepted performers of their own race blacking-up." At the same time, whites flocked to see the show because it became "de rigueur for anyone wishing to be au courant."
"Shuffle Along was one of the first shows to provide the right mixture of primitivism and satire, enticement and respectability, blackface humor and romance, to satisfy its customers."
- Krasner, p. 264.
While Shuffle Along inspired a new interest in black musicals, its tremendous commercial success had a down side –
". . . as Shuffle Along became the model for all black musicals of the 1920s, it also set certain boundaries. Any show that followed the characteristics of Shuffle Along could usually be assured of favorable reviews or a least a modest audience response. Yet, if a show strayed from what had become the standard formula for the black musical, disastrous reviews became almost inevitable. . . The result of this critical stranglehold on the black musical was that Shuffle Along imitators swiftly became commonplace in the 1920s, as black authors and composers prepared shows within extremely narrow constraints."
- Allen Woll, Black Musicals: From Coontown to Dreamgirls (New York: Da Capo Press, 1989), p. 78.
Lew Leslie's Blackbirds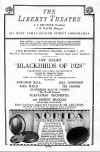 The original cast Playbill for Blackbirds of 1928.
Beginning in 1926, white nightclub producer/director Lew Leslie staged a series of Blackbirds revues, featuring such celebrated talents as singers Florence Mills, Adeaide Hall and Ethel Waters, and tap dance legend Bill "Bojangles" Robinson. Although these productions showcased black talent, they were almost completely created by white writers and composers -- a pattern many black musicals would follow right into the 21st Century.
In an interview, Leslie made a fascinating claim for his writers (the words in parenthesis are added for clarification) –
"They (white men) understand the colored man better than he does himself. Colored composers excel at spirituals, but their other songs are just 'what' (dialect for 'white') songs with Negro words."


- as quoted in Woll, p. 97.
Leslie's series reached its peak with Blackbirds of 1928 (518 performances). This production opened at the Liberty Theater, in the very heart of the theater district, with an all-black cast and an all-white creative team. The score by composer Jimmy McHugh and lyricist Dorothy Fields included the hit songs "I Can't Give You Anything But Love," and "Doin' the New Low Down." Although most of the material tried to move beyond minstrel show stereotypes, they were not completely absent. Some of the cast still wore burnt cork to look "blacker" under stage lights, and one backdrop depicted a huge smiling "pickaninny" eating watermelon on a plantation fence. Racial enlightenment was still more dream than reality in 1928. Would that mainstream entertainment could claim complete freedom from racial stereotypes today.
In the 1920s, a bumper crop of new white composers came to prominence on Broadway. For more on them, continue to . . .