History of The Musical Stage
1950s II: The Composers
by John Kenrick
(Copyright 1996; revised 2014)
(The images below are thumbnails – click on them to see larger versions.)
As important as Rodgers & Hammerstein were in the 1950s, there were many other composers and lyricists working on Broadway.
Irving Berlin: "With the Mostess"

Caricaturist Peter Arno captured Ethel Merman's comic power in the logo for Call Me Madam.
Veteran songwriter Irving Berlin composed Call Me Madam (1950 - 644 performances) for Ethel Merman, providing her with Broadway's first musical hit of the decade. Merman's character was based on Perle Mesta, a real-life Democratic party fundraiser who was named ambassador to Luxembourg. The musical was set in mythical "Lichtenburg," and spoofed America's penchant for lending billions to other countries. Thanks to the contemporary political humor, some aspects of Call Me Madam now seem dated – how many people would still get jokes about Senators Vandenberg and Taft? Merman stopped the show with Russell Nype singing one of Berlin's best counterpoint duets, "You're Just In Love." Since Merman and Berlin had exclusive contracts with different record companies, Call Me Madam wound up with two cast albums – Merman on Decca, and the rest of of the cast with Dinah Shore on RCA. To no one's surprise, the Merman version became the bestseller.
For the remainder of the decade, Berlin concentrated on Hollywood projects that rehashed his old hit tunes. His final Broadway score was for the poorly-received Mr. President (1962 - 265 performances), but his final published showtune was the counterpoint duet "Old Fashioned Wedding," written for Merman's 1966 revival of Annie Get Your Gun. Disheartened by changes in popular taste, Berlin spent his remaining years in self-enforced retirement.
Cole Porter: "C'est Magnifique"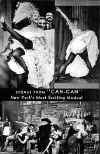 On this postcard for the original Broadway production of Can Can (1954), Gwen Verdon and other members of the original cast are seen performing some of Michael Kidd's acclaimed dance numbers.
Cole Porter's glamorous public life was offset by a personal nightmare. His legs had been shattered by a horse riding accident in 1937, and he endured more than thirty operations over the next twenty years in his attempts to save them. Many of his wittiest songs were written while he endured indescribable pain. With Kiss Me Kate still running, hopes were high for Out of This World (1950 - 157 performances), a story of the goddess Juno contending with her husband Jupiter's obsessive pursuit of mortal women. The fine Porter score could not make up for a flat book and ill-considered production, so audiences stayed away. Forced to cut "From This Moment On" during tryouts, Porter had the pleasure of seeing the song make the hit parade on its own.
Porter renewed his longtime love affair with Paris by composing the score for Can-Can (1953 - 892 performances), a comic story of do-gooders and high-kicking cabaret dancers battling over the scandalous 1890s dance craze. French cabaret star Lilo got star billing and the chance to introduce the hit songs "I Love Paris" and "C'est Magnifique," but newcomer Gwen Verdon stole the evening playing an uninhibited chorine. With exuberant choreography by Michael Kidd, Can-Can overcame mixed reviews and ran for two years. Porter's next and last Broadway project was Silk Stockings (1955 - 478 performances), a Cold War love story based on Greta Garbo's MGM comedy Ninotchka. A nightmarish pre-Broadway tour convinced Porter that he was no longer up to the strain of developing new shows. After composing songs for a televised version of Aladdin (1958), he retired from public life. The long-feared amputation of Porter's injured legs broke his spirit, and he remained a semi-recluse until his death in 1964.
Frank Loesser: "Yeah, Chemistry!"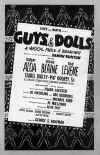 The original souvenir program for Guys and Dolls (1950).
No other composer-lyricist of the 1950s matched the artistic versatility of Frank Loesser. He started the decade with Guys and Dolls (1950 – 1,200 performances), considered by many to be the finest American musical comedy ever written. Abe Burrows adapted the script from journalist Damon Runyon's fictional stories about the denizens of Times Square, and Loesser wrote an extraordinary score that included "I've Never Been In Love Before," "Fugue For Tinhorns," and "Luck Be A Lady Tonight." Vivian Blaine won a Tony as the love-hungry showgirl Miss Adelaide, and Stubby Kaye stopped the show with the raucous gambler's anthem "Sit Down, You're Rockin' the Boat." The show won the Tony for Best Musical.
Loesser scored a far different triumph with The Most Happy Fella (1956 - 676 performances), an operatic version of Sidney Howard's drama They Knew What They Wanted. An aging Napa Valley vintner (played by Metropolitan Opera bass Robert Weede) falls in love with a lonely young waitress, and both must learn to forgive each other for selfish mistakes. The waitress was played by the gifted soprano Jo Sullivan, who became Mrs. Loesser soon after this production. Loesser blended arias ("My Heart Is So Full of You") with pop songs ("Standing On The Corner"), and this unlikely mix proved remarkably effective. Overshadowed by the acclaim lavished on My Fair Lady, this masterpiece never got the credit it deserved. Revivals have proven that Fella is like caviar – fans adore it, but much of the general theatre going public somehow does not get the point.
After the disappointing failure of Greenwillow (1960 - 95 performances), Loesser re-teamed with Guys and Dolls librettist Abe Burrows to write How To Succeed in Business Without Really Trying (1961 - 1,418 performances). It told of a ruthless window cleaner manipulating his way into the chairmanship of a major corporation. This wicked satire of big business boasted dances by Bob Fosse, hilarious performances by Robert Morse & old-time crooner Rudy Valee, and the hit song "I Believe in You." It won a bucketful of Tonys and a Pulitzer Prize for Drama. Loesser's Pleasures and Palaces (1965) was an attempt to musicalize the life of Catherine the Great. After it closed on the road, Loesser had difficulty finding a new project. A lifelong chain-smoker, he died four years later of lung cancer at age 59.
Harold Rome: "Never Too Late For Love"
With a knack for writing strong comic songs, Harold Rome got his start composing for revues. As an amateur he wrote the music and lyrics for the surprise hit revue Pins And Needles (1937 - 1,108 performances). After serving in World War II, he provided the score for Call Me Mister (1946 - 734 performances), a revue that poked fun at the postwar society servicemen were coming home to. When revues moved to television in the 1950s, Rome worked on a series of successful book shows. Wish You Were Here (1952 - 598 performances) was set in a singles resort in the Catskills, and the full size swimming pool on stage got more attention than everything except the hit title tune.
For Fanny (1954 - 888 performances), Rome created a soaring, lyrical score. Ezio Pinza and Walter Slezak starred with Florence Henderson in this bittersweet love story set in Marseilles. Based on three plays by Marcel Pagnol, it was the first show produced by David Merrick, whose unscrupulous tactics led to him being nicknamed "The Abominable Showman." Merrick also produced Rome's Destry Rides Again (1959 - 472 performances), based on the classic 1939 Hollywood western about a peace loving sheriff contending with a sexy madam. Rome's last Broadway hit was I Can Get It For You Wholesale (1962 - 300 performances), a garment industry spoof which marked Barbra Streisand's Broadway debut as the overworked secretary Miss Marmelstein. Rome's lavish musical stage adaptation of Gone With the Wind succeeded in London and Tokyo in the 1970s, but several attempts to bring it to Broadway failed.
Meredith Willson: "To Get the Sun Back in the Sky"

Robert Preston woos the people of River City with images of a boys band playing "Seventy-Six Trombones" in The Music Man.
Meredith Willson, a popular musical director on network radio, spent years creating the book, music and lyrics for The Music Man (1957 - 1,375 performances). Robert Preston played a phony traveling salesman who's plans to flim-flam an Iowa town in 1912 are thwarted by his love for the local librarian, a role that made Barbara Cook Broadway's premiere ingénue. The score was a disarming potpourri of period styles including the Sousa-style march "Seventy-Six Trombones," the revival tent exhortation "Trouble," several barbershop quartets and the soaring ballad "Till There Was You." The book captured a time of innocence with both humor and charm, and director Morton DaCosta's staging was so deft that no one complained about the show's shameless sentimentality. The Music Man remains one of the world's most popular musicals, an all-American explosion of hokum and heart. Many forget that this show beat out West Side Story for the Best Musical Tony in 1957. It became the longest-running Broadway musical up to that time with book, music and lyrics written by one person (well, there have been rumors that Willson's pal Frank Loesser helped with "My White Knight").
Willson's The Unsinkable Molly Brown (1960 - 532 performances) was very loosely based on the true story of a scrappy country girl who rose from poverty and eventually became a semi-legendary figure when she survived the sinking of The Titanic. A disarming performance by newcomer Tammy Grimes and the catchy march "I Ain't Down Yet" were well received, but critics groused that it was not another Music Man – as if anything could be? Here's Love (1962 - 338 performances), based on the classic film Miracle on 34th Street, ran almost a year despite poor reviews. After a musical version of the Christopher Columbus story closed on the road in 1969, Willson retired from composing.