History of The Musical Stage
1950s Part II: Composers (Cont'd)
by John Kenrick
(Copyright 1996; revised 2014)
(The images below are thumbnails – click on them to see larger versions.)
In his retirement, Cole Porter fell in love with one musical that he saw more than a dozen times, marveling at its brilliance. He was not alone – millions flocked to make My Fair Lady the biggest theatrical success of the 1950s.
Lerner & Loewe: "Oh, the Towering Feeling"

Julie Andrews and Rex Harrison on the original cast Playbill for My Fair Lady, the longest running Broadway hit of the 1950s.
Lyricist-librettist Alan Jay Lerner and composer Frederick Loewe followed their 1947 hit Brigadoon with Paint Your Wagon (1951 - 289 performances), a rustic love story set during the California Gold Rush. Featuring "I Talk To The Trees" and "They Call The Wind Mariah," it enjoyed modest success. Some were surprised when this team announced that their next project would be a musical version of George Bernard Shaw's comedy Pygmalion. No less an authority than Oscar Hammerstein II warned Lerner this project could not possibly work. It seems that even the greatest genius can be wrong.
With My Fair Lady (1956 - 2,717 performances), Lerner and Loewe surpassed Rodgers and Hammerstein at their own game. To many (this author included), this is the finest work the musical theatre has ever produced, with a remarkable blend of eloquence, melody, intelligence and heart that has never been surpassed. Rex Harrison, Julie Andrews and Stanley Holloway headed the cast, Cecil Beaton designed the distinctive Edwardian costumes, and playwright Moss Hart directed. The book mixed some of Shaw's original dialogue with wonderful new scenes by Lerner, all deftly interwoven with an exquisite score, which included "With A Little Bit of Luck," "I Could Have Danced All Night," "On The Street Where You Live," and "I've Grown Accustomed to Her Face."
My Fair Lady is filled with examples of flawless story-song integration. In one scene, Professor Higgins and Colonel Pickering try for weeks to train cockney flower girl Eliza Doolittle to speak like a lady. Late one night, the caustic Higgins speaks gently to an exhausted Eliza about the beauty and majesty of the English language, reassuring her that she will conquer it. After a breathless moment, Eliza makes the phonetic connection and correctly pronounces, "The rain . . . in Spain . . . stays mainly in the . . . plain." Disbelief turns to jubilation as the three characters break into a celebratory tango, collapsing onto a sofa at the final note. It is one of the most exhilarating moments the theatre has ever produced.
Another standout is the wordless moment when Eliza first appears in a dazzling Edwardian ball gown. As she descends a staircase to the melody of "I Could Have Danced All Night," Higgins and the audience sees the "squashed cabbage leaf" complete her transformation into an elegant lady. This wordless moment has moved theatergoers in countless productions.
It is worth noting that both of these exquisite scenes discussed above do not exist in Shaw's Pygmalion – Lerner created them for My Fair Lady. From its first performance on the road, it was clear that the show was a phenomenon. It opened to unanimous raves, won every major award, became Broadway's longest running musical up to that time (a record that stood for a decade), and played to acclaim in numerous languages all around the world. It has been revived several times in both New York and London, remaining a worldwide favorite after almost half a century.
After creating the screenplay and score for MGM's Academy Award-winning Gigi (1958), Lerner and Loewe returned to Broadway with Camelot (1960 - 873 performances), based on T.H. White's novel The Once and Future King. Richard Burton played the legendary King Arthur, with Julie Andrews as Guenevere and newcomer Robert Goulet as Sir Lancelot. The luscious score featured "If Ever I Would Leave You," "How to Handle A Woman" and a catchy title song, but the pressure to write another major hit proved too much for the creative team. During the pre-Broadway tour, both Loewe and director Moss Hart suffered near-fatal heart attacks. In desperation, the ailing Lerner was forced to take over direction, and an unfinished Camelot opened on Broadway. Many came expecting another lighthearted My Fair Lady -- instead, they found a romantic tragedy. Although brilliant, it was unlike any previous Broadway musical. Most critics were not impressed, but some post-opening revisions by Hart made a profitable run possible.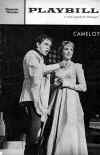 Richard Burton and Julie Andrews plan to announce the invention of King Arthur's round table in Camelot.
Camelot is a perennial favorite with audiences, thanks to the timeless appeal of the Arthurian legend and the show's identification with President John F. Kennedy, who had frequently listened to the original cast recording. Whatever its shortcomings, Camelot has more melody and heart than most shows could ever hope for, and its original cast recording remains an all-time best seller. It has been revived once in London and four times on Broadway.
Loewe would only work on two more projects with Lerner: the film version of The Little Prince (1974) and an unsuccessful Broadway adaptation of Gigi (1974). Lerner later wrote shows with distinguished composers Burton Lane, Andre Previn, Leonard Bernstein and Charles Strouse, but he is best remembered for his work with Loewe.
For a sometimes hilarious behind-the-scenes look at how My Fair Lady, Gigi and Camelot were created, read Lerner's autobiography The Street Where I Live (W.W. Norton & Company, New York. 1978).
Leonard Bernstein: "The Best of All Possible"

Carol Lawrence and Larry Kert on the original Playbill cover for West Side Story.
The charismatic and multi-talented Leonard Bernstein was the only principal conductor of the New York Philharmonic to compose for the Broadway stage, so it is not surprising that he created some of the most ambitious musical theatre scores of his time. His blending of classical, pop and jazz styles so distinctly invoked New York that his three hit musicals were all set in that city.
– Bernstein collaborated with Betty Comden and Adolph Green to create the jazzy dance musical On the Town (1944 - 463 performances), where three sailors spend an adventurous day in New York. The same trio later wrote Wonderful Town (1953 - 559), creating a score with everything from an aria ("A Little Bit In Love") to a comic duet ("Ohio") to innovative jazz ("Wrong Note Rag") to an uninhibited "Conga." With its sanitized but endearing view of life in Manhattan's bohemian Greenwich Village and a hilarious performance by Rosalind Russell, Wonderful Town ran for more than a year.

– Broadway's last self-proclaimed "comic operetta" was Bernstein's Candide (1956 - 73 performances), based on Voltaire's story of a man who learns that blind optimism is no defense against life's cruelties. Its political satire and operatic score (including the wonderful coloratura aria "Glitter and Be Gay," introduced by Barbara Cook) may be more than the general public will ever be able to handle. Thanks to a brilliant (if truncated) cast recording, Candide developed a dedicated following. A 1974 Broadway revival that revised the libretto and stressed the comedy racked up 740 performances, and opera house productions based on that version have done well. However, a lavish 1997 Broadway revival flopped, proving that this show's popularity is still limited.

– Bernstein composed West Side Story (1957 - 732 performances) in collaboration with lyricist Stephen Sondheim, director/choreographer Jerome Robbins and librettist Arthur Laurents. Inspired by Shakespeare, it set a Polish-American Romeo and a Puerto Rican Juliet in the middle of a New York City street gang war. This show combined glorious music, a finely wrought libretto and unforgettable dancing. Bernstein's melodies had a steamy vitality that gave the score tremendous appeal. "Maria" and "Somewhere" soared with operatic grandeur, "Dance at the Gym" was a jazz explosion, "America" had an irresistible Latin sound, and "Gee Officer Krupke" was a variation on classic vaudeville. The original cast included Chita Rivera, the first in a string of show-stealing performances that she would offer right into the next century. Carol Lawrence and Larry Kert played the doomed lovers and introduced the hit ballad "Tonight." Revived successfully on Broadway in 1980 and 2009 (both times with the original Robbins choreography), West Side Story remains one of the most popular musicals of all time.
Two decades passed before Bernstein composed the ill-fated 1600 Pennsylvania Avenue (1976 - 7). This complex but brilliant work, with lyrics by Alan Jay Lerner, has yet to receive long overdue reconsideration. Bernstein supervised numerous recordings and revivals of his hits in his later years, but wrote no more Broadway scores. Classical and contemporary, gay but a married father, an oversized soul in an undersized time, Bernstein was one of the most remarkable personalities of the 20th Century.
So there were a number of outstanding people writing musicals in the 1950s. Who made their scripts and songs into three dimensional realities on stage?