Coward 101
Noel Coward: A Brief Biography - Part II
by John Kenrick
(The photos on this page are all thumbnail images – click on them to see larger versions.)
The Big Break

The Vortex brought Coward to Broadway, where the original program included this ad for Bulova watches.
Coward decided his next project should involve a controversial topic guaranteed to attract widespread public interest. He wrote, directed and starred in The Vortex (1924), a searing look at sexual vanity and drug abuse among the upper classes. In it, a middle-aged socialite with a foolish penchant for extramarital affairs with younger men clashes with her cocaine-snorting son Nicky (played by Coward). When most producers refused to consider such a lurid project, the small Everyman Theatre in suburban London agreed to take it on. But resources were limited, and it was up to Noel to raise the money and produce the show himself. When the female star dropped out just days before the premiere, veteran actress Lillian Braithwaite stepped in and learned the part with amazing speed.
On opening night, the audience was both shocked and fascinated by The Vortex. Coward got so carried away during a confrontation scene that he gashed his hand on stage. Without breaking character, he wrapped the bleeding wound in a prop handkerchief and played on. At the end, Coward and Braithwaite received a wild, sustained ovation. The combination of fiery acting and scandalous subject matter made The Vortex the talk of London. Other plays had depicted drug abuse, but not among the rich. Demand was such that the production soon moved to a larger West End theater for an extended run, making the long-suffering Coward a sensation.
Stardom
From early on, Coward knew the value of publicity and was more than willing to be portrayed as a dissolute playboy by the popular press. One dreary-eyed photo taken of him propped up in bed made Noel appear half-drugged. The ensuing uproar delighted him. Anything that helped make his name a household word all over England was well worth enduring. Within a year, Coward had several plays running in London and a slew of songs featured in producer Andre Charlot's revues on both sides of the Atlantic. He was acclaimed as one of "the bright young things," a generation of young writers and artists who brought a world-weary perspective to the post war era. Coward finally moved out of his family's boarding house and maintained an elegant art deco studio apartment on London's Gerald Road. Coward's stylish wardrobe made him a trend setter in men's fashion, a distinction he retained for the rest of his life.
During the London run of The Vortex, Coward met Jack Wilson, a handsome American stockbroker who became his lover and business manager for the next decade. Blinded by affection, Noel overlooked Wilson's heavy drinking and blatant stealing – and he demanded that everyone else in his circle overlook these things too. To make his commitment clear, Coward purchased Goldenhurst Farm in Kent, renovated the buildings and moved in with his parents and Wilson in 1926. The British press did not dare to pry into the private lives of celebrities at that time, so this potentially scandalous arrangement went unnoticed by the public.
The Breaking Point
With the sudden success of The Vortex, Coward was in demand. Over the two years he starred in the London and New York productions, as well as an American tour. Coward also wrote the hilarious comedy Hay Fever (1925), which triumphed in London but failed in New York, and the hit West End revue On With The Dance (1925). He also turned out Fallen Angels (1925), Easy Virtue (1925), The Queen Was in the Parlour (1926) and The Rat Trap (1926). Most of these plays were at least partially successful, but he was working at a punishing pace.
Three weeks into the run of The Constant Nymph in 1926, Coward collapsed on stage. At the insistence of his doctors, he left on an extended vacation. Noel's nerves were so frazzled that he was delirious with fever by the time he reached Hawaii. There, friends arranged for his proper care, sequestering him in a secluded beach house for several weeks. During this much needed rest, he did only one bit of writing, dashing off the wistful song "A Room With a View."
Coward's comedy The Marquis (1927) opened in his absence, and was a mild success. On his return to England, he avoided performing for more than a year and focused on writing. However, two of his weakest early plays were produced in London during the autumn of 1927, with disastrous results. Home Chat merely closed in a matter of weeks, but Sirocco had one of the most infamous opening nights in theatrical history. The audience responded to this tale of free love among the wealthy with jeers, catcalls, and fistfights after the final curtain. Coward faced the mob at the stage door, where they spat at him. He reacted with extraordinary calm, and the next day insisted on dining at The Ivy (a popular West End restaurant frequented by the theatrical community). But Coward had learned that the same public that fed his popularity could turn on him without warning.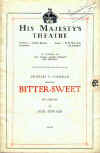 A program for the original London production of Bitter-Sweet.
Coward wrote and directed the London revue This Year of Grace (1928), and then co-starred with Bea Lillie in the New York production several months later. In a nostalgic mood, Coward changed gears to write and direct the romantic operetta Bittersweet (1929). The plot involved an ill-fated love affair in old Vienna, and the score included the sentimental waltz "I'll See You Again." London audiences were enchanted, and the West End production enjoyed a long run. However, Florenz Ziegfeld's New York production had the bad luck to open just weeks after the crippling stock market crash of 1929, and rave reviews kept the show going for only a few months. Although Coward (who had not invested in stocks) was not directly affected by the ensuing depression, his challenge was to find new ways to keep a changing world amused.
Public and Private Lives
Coward prospered through the worst of the Great Depression, enjoying a lifestyle most people could only dream about. A dedicated traveler, he went on a series of extended journeys to escape the pressures of show business. During one 1929 stay in Singapore, he awoke with a mental image of longtime friend Gertrude Lawrence in a white gown. Within a matter of days, he finished the first draft of Private Lives (1930), which proved to be a highlight in both of their careers. This biting comedy involved Elyot and Amanda Chase, a quarrelsome divorced couple who reunite while honeymooning with new spouses, then run off to resume their always tempestuous relationship. Coward and Lawrence co-starred with a then unknown Laurence Olivier, playing to packed houses in both London and New York. To avoid boredom, Noel set a policy of playing no more than three months of performances in London, and the same in New York. No matter how producers begged for longer commitments, he stuck to these limitations for the rest of his career.
Once again doing the unexpected, Coward wrote and directed Cavalcade (1931), a spectacular stage drama that followed the lives of two London families (one rich, one working class) from 1899 to 1930. Through it all passed the "cavalcade" of British history – two wars, Queen Victoria's funeral, the seaside joys of Brighton, a Gaiety Theater musical, and even the sinking of the Titanic – all seen in the context of the character's lives. Acclaimed on the London stage, the film version won the Academy Award for Best Picture in 1933. (Forty years later, the TV series Upstairs, Downstairs would pay affectionate homage to Cavalcade by using the same basic setting and some of the same character names.)

Alfred Lunt, Noel Coward and Lynn Fontanne on the original Broadway cast Playbill cover for Design for Living. The bisexual theme of the play is hinted at in the photo.
Now at the peak of his popularity, Coward could seemingly do no wrong. He wrote and directed the London revue Words and Music (1932), which included "Mad Dogs and Englishmen" and the tortured ballad "Mad About the Boy." He then wrote, directed and co-starred in one of his most daring plays. Design For Living (1933) was his long-promised collaboration with friends Alfred Lunt and Lynn Fontanne. It involved a bisexual romance between two men and a woman – an unspeakable subject in those days. The topic and the stellar cast guaranteed sold-out houses for every night of the limited Broadway run.
That same year, Coward wrote, directed and co-starred with French soprano Yvonne Printemps in the London and New York productions of Conversation Piece (1933), another romantic costume operetta. He then wrote, directed and starred in the London and New York productions of Tonight at 8:30 (1936), a demanding set of nine one-act plays and musicals performed in a three night repertory cycle. One of the most memorable one-acts featured Coward and Gertrude Lawrence as The Red Peppers, a mediocre husband and wife music hall team who bicker backstage but pull themselves together for their onstage routines.
By the late 1930s, Jack Wilson's heavy drinking soured his romance with Noel. After their breakup, Wilson married. Noel maintained a friendship with his former lover, and provided a sympathetic ear to Wilson's long-suffering wife Natasha. Soon, Jack's poor management of Coward's American business affairs forced Noel to replace him with new agents. Wilson then surprised many by becoming a successful stage director, helming such hits as Kiss Me Kate before alcoholism ruined him.
World War II
When Britain declared war on Germany and Italy in 1939, Coward was determined to make up for his embarrassing non-involvement in World War I. After serving for a brief time as a secret agent in Paris, he entertained allied troops in Europe, Africa and the Far East, often covering the travel expenses himself. In 1942, he turned out a trio of hit plays, including the semi-autobiographical comedy Present Laughter (1942) and the cockney drama This Happy Breed (1942). His biggest wartime hit was Blithe Spirit (1942), a comedy about a novelist who's research into the occult brings back the ghost of his first wife – who plagues the novelist, his outraged second wife, and a daffy spiritualist. The play proved one of Coward's most popular successes, with character actress Margaret Rutherford winning stardom as the eccentric medium Madame Arcati. She repeated her role in a superb film version three years later.
Coward wrote, produced, directed and starred in the film In Which We Serve (1942), the story of a British destroyer crew facing the horrors of torpedo warfare. The then-unknown David Lean acted as co-director. Coward played the captain, a character based on his friend Lord Louis Mountbatten. Some critics complained that it was hard to accept the effete Noel Coward as a hardened naval commander, but the film won deserved acclaim in Britain and the US. As a result, Coward authorized Lean to adapt and direct film adaptations of This Happy Breed (1944) and Blithe Spirit (1945). Lean followed these hits by adapting one of Coward's one-act plays into the moving film Brief Encounter (1945), a dark wartime romance that is still considered one of the finest film dramas of the 1940s.
When London celebrated Germany's surrender in 1945, Coward took part in the merriment but couldn't help feeling a degree of unease. As he explained in the second installment of his autobiography –
"There was, as in all celebrations of victory, an inevitable undertow of sadness. Parades generate only a superficial gaiety, because we all know that they cannot last, and although this was the end of the war it was far from the end of the world's troubles. Japan was still unconquered and even when she was vanquished there was still the future to be fought."
- Noel Coward, Future Indefinite (New York: Doubleday & Co, 1954), p. 332.
Whatever his misgivings, Coward could not have foreseen just how much of a professional and personal battle the post-World War II years would be.